As we continue to celebrate National State Days, this week we are visiting Kansas. Our Sunflower star is Vivian Vance. Vivian was born in Cherryvale, Kansas in 1909. Her family moved to Independence when she was six. She knew she wanted to be an actress, but her mother's strict religious beliefs prohibited her. She began sneaking out of her room at night to perform and eventually moved to Albuquerque, New Mexico where she changed her last name from Jones to Vance.Vivian married Joseph Shearer Danneck Jr. in 1928 at age 19 but they divorced in 1931.
In 1930 she was hired for her first job at the Albuquerque Little Theatre. After appearing in many other plays for the group, the local theater community paid her way to New York so she could study with Eva Le Gallienne.
In 1932, Vance began working on Broadway and was often a chorus member. In 1937 she replaced Kay Thompson in "Hooray for What!" and then began receiving supporting roles. In 1941, she joined Danny Kaye and Eve Arden in Cole Porter's musical "Let's Face It" for 500 performances. She would appear in 25 plays with her last being "Harvey" in 1977.
In 1933 Vance tried marriage again, wedding George Koch, but that relationship also ended in divorce in 1940. Her third marriage to Philip Ober in 1941 would also last only 8 years.
Until 1950 she was offered some small roles in big screen in several films. In 1949, she appeared in her first television series, Philco TV Playhouse.
In 1951, Lucille Ball and Desi Arnaz decided to launch their sitcom I Love Lucy. Ball was hoping to cast Barbara Pepper or Bea Benarderet in the role of Ethel Mertz. Bea had already taken the role of Blanche Morton on The George Burns and Gracie Allen Show. CBS declined to hire Pepper because they said she had an addiction to alcohol. After many roles as "The Dame" in the movies, Pepper later played Doris Ziffel on Green Acres. It's interesting that CBS allowed William Frawley to be hired for the show because he had a well-known alcohol problem at that time, but Desi gave him strict rules.
Director Marc Daniels had seen Vance perform in the "Voice of the Turtle" and suggested her for the role. She would play Ethel for 179 episodes. She was nominated for her work in 1954, 1956, and 1957, winning in 1954.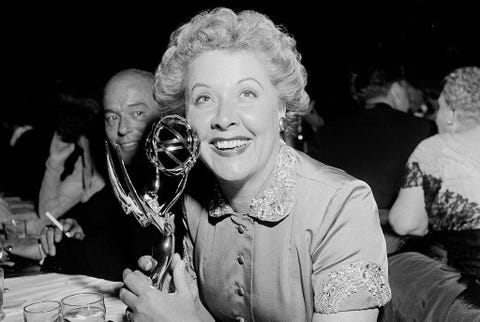 Apparently, she was a very good actress because although she and William Frawley who played her husband Fred had great comedic timing, they could not stand each other. Vivian wasn't happy that she had to wear frumpy clothing and that Frawley was supposed to be her husband because he was 22 years older than her. He overheard a derogatory comment she made about their age difference, and they never developed any type of cordial friendship after that. However, their coworkers claimed they were professionals and treated each other with respect on the set.
When the sitcom ended, Vance continued to play Ethel on The Lucille Ball-Desi Arnaz Show. She and Frawley were offered a spin-off series, but Vance passed because she didn't want to continue working with Frawley. Vance was interested in another show however, and Desilu, Ball and Arnaz's production company, put together a show called Guestward Ho! for her, but the network rejected the pilot. Desilu made some changes to the show and hired Joanne Dru for the lead. ABC picked it up but cancelled it after one season.
In 1961, Vance married John Dodds, an agent, editor and publisher. They moved to Stamford, Connecticut, and Vance always felt pulled between her marriage and career. In 1974 the couple moved to California. Vivian had no children from her four marriages but was godmother to Lovin' Spoonful band member John Sebastian.
When Ball put together a new show, The Lucy Show in 1962, she invited Vance to costar on the show. The concept featured Ball as Lucy Carmichael, a widow, raising two children in Danfield New York. Vance played her best friend Vivian Bagley, a divorced mother of one son. After a few years, Vance wanted a bit more control and a bit of controversy developed between Lucy and Vivian. Vivian left the show, but they resolved their differences and she guest starred on the show and joined Lucy on reunion shows and on her third sitcom, Here's Lucy which ran from 1968-1974.
Vance had very few television roles after leaving Ball's sitcom, although she did make appearances on Off to See the Wizard, Love American Style, Rhoda, and Sam.
She was best known during those years as the Maxine, the Maxwell Coffee lady starring in numerous commercials for the coffee company. She was paid $250,000 for her three-year contract.
The last time Vivian and Lucy appeared together was Ball's special Lucy Calls the President in 1977. Not long afterward, Vance suffered a stroke which left her partly paralyzed. She died in 1979 from bone cancer.
Both Ball and Arnaz commented on her death. Desi shared that "it's bad enough to lose one of the great artists we had the honor and the pleasure to work with, but it's even harder to reconcile the loss of one of your best friends."
Ball commented on Vivian's performance as Ethel: "I find that now I usually spend my time looking at Viv. Viv was sensational. And back then, there were things I had to do—I was in the projection room for some reason—and I just couldn't concentrate on it. But now I can. And I enjoy every move that Viv made. She was something." Both Vance and Frawley were inducted into the Television Academy Hall of Fame in March of 2012.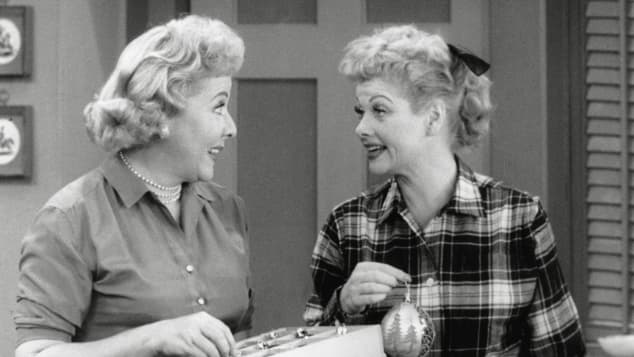 Some actors have the ability to adapt to a variety of television roles and we're grateful for them. Other stars create one that is so memorable it becomes completely entwined with part of our life. Thank you Vivian Vance for being Lucy's best friend. While we love Lucy's antics, you are the one the majority of us identified with and for seventy years you have been influencing comedy and making new fans.