As we wind up our blog series, "The Movie Came First," we finish with a show from the late seventies, House Calls. The original movie hit the big screen in 1978. The description of the movie is that Charley is a surgeon who's recently lost his wife. He embarks on a tragicomic romantic quest with one woman after another until he meets up with Ann, a single woman, closer to his own age, who immediately and unexpectedly captures his heart.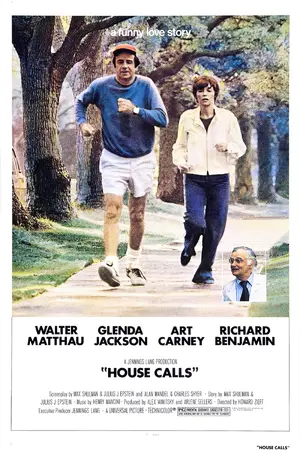 Walter Matthau played Charley and Glenda Jackson was Ann. Art Carney and Richard Benjamin were cast as friends and doctors who work with Walter. Max Shulman and Julius Epstein wrote the screenplay.
Jump ahead to 1979 and we find House Calls on the television schedule. The writers/creators are still Julius Epstein and Max Shulman. The same four top characters are featured but I thought it was interesting that only three of them got new names. Instead of Charley Nichols, we now have Wayne Rogers as Charley Michaels, Lynn Redgrave took on the role of Ann Anderson in place of Ann Atkinson. Charley's coworkers are Amos Weatherby played by David Wayne where the original character was Amos Willoughby but Benjamin's Norman Solomon role is now Normon Solomon, just one vowel change played by Ray Butenika. If there is a meaning behind the names, I never learned about it. Charley and Normon are the Hawkeye and Trapper of the hospital community and Willoughby is the senior doctor who tries to reign them in and doesn't fire them only because they're such good doctors.
In this version of the story, Charley and Ann are dating. He's a surgeon at a San Francisco hospital and she is the new administrative assistant. He doesn't like to conform to rules, while she insists on it, so while they are dating in their personal life, they often butt heads in the work life.
Redgrave and Rogers had a great chemistry and apparently the relationship of the three doctors provided a lot of funny situations. Providing additional humor were practical head nurse Bradley played by Aneta Corsaut, an older but enthusiastic candy striper Mrs. Phipps played by Deedy Peters, and everyone's favorite character to hate, Conrad Peckler (Mark Taylor), the executive who was trying to bring order to the hospital.
Fans and critics liked the show; Redgrave was nominated for an Emmy and a Golden Globe, but lost the Emmy to Isabel Sanford for The Jeffersons in 1981.
CBS scheduled the show for Monday nights after MASH, Rogers' previous show. Its competition was Monday Night Football/Baseball on ABC and The Monday Night Movie on NBC. The show stayed on Monday nights for its final two years up against Flamingo Road on ABC and depending on the time of year, Monday Night Football or Dynasty on NBC. The first season it was in the top 20; the second year, it jumped to the top ten and the third season it was in the top 30.
During season three, Lynn Redgrave left the show. There is some confusion as to why she left. Universal Television claimed there was a dispute about her salary; Redgrave insisted it was because the studio would not allow her to breastfeed her baby between takes.
Her leave was explained on the show by Charley reading a letter out loud to the staff that she had gone back to England to marry her former husband. After more than two years of the relationship developing between Ann and Charley, I'm guessing that the audience didn't buy the abrupt ending of their romance. Sharon Gless was brought in as Jane Jeffries who develops a similar relationship with Charley. I'm also assuming that fans weren't thrilled to think Charley would jump right into a new relationship with Ann's replacement and the chemistry just wasn't the same. The network cancelled the show after season three even though it was still in the top 25.
In an interview on "Pop Goes the Culture," Rogers discussed the show. He said that he loved his time on House Calls. He related that the pilot had been filmed with another actor and for whatever reason, they needed to replace him and called Rogers to see if he was willing to take over the role.
He said he truly enjoyed working with Redgrave and she was very gifted. He wasn't sure how much of her firing had to do with the baby demands and how much was subterfuge for more money, but she was managed by her husband at the time and the entire situation backfired. Rogers especially loved her use of language, and they would sometimes improvise tongue twisters into the script.
He said like MASH, the show took a serious subject and turned it on its head. One of his favorite episodes had to do with medical marijuana. The older Willoughby was growing pot in the hospital for his patients' use. He said it was a very funny episode. Rogers wrote two episodes and directed three of them. He talked about one of the shows he wrote, "Institutional Food" which he took a different take on hospital food which was always stereotyped as bad. In this situation, the hospital had a Mexican chef whom everyone liked. He didn't have a green card and was getting ready to be deported, so the hospital staff was trying to come up with a solution. Finally, Charley decides to adopt this man as his son so he could continue to cook for them.
Rogers was very upset they took the show off the air. They were currently the eleventh most popular show when it was cancelled. He said he wrote a letter to the head of the network programming and to Bill Paley to protest. Paley invited him to lunch in his private quarters but refused to put the show back on the air.
I did find several episodes of the show on YouTube but did not see the DVDs available. I have to admit I saw this show infrequently and never saw the original movie, so I will add that to my list of things to watch in the future. This one sounded like a fun show, but I guess if I'm going to watch Wayne Rogers as a doctor, I'd rather continue watching reruns of MASH. It makes you wonder how long the show would have lasted if the network had not fired Redgrave.