We are winding up this month's blogs about some popular sitcoms. In 1986, the Barone family visited our living rooms. The show might be titled Everybody Loves Raymond, but the family was a package deal. Ray (Ray Romano), a sportswriter, (his column is "More Than a Game") lives in a beautiful home with his funny and smart wife Debra (Patricia Heaton), and picture-perfect kids (played by real life siblings Madylin Sweeten, Sawyer Sweeten, and Sullivan Sweeten). However, once you probe a bit you find the same dysfunctional family all your neighbors and friends have.
His parents Marie (Doris Roberts) and Frank (Peter Boyle) and his brother Robert (Brad Garrett), a policeman, live across the street and no one has anything that even looks like privacy. The exterior shots of the two Barone homes are located on Margaret Blvd in Merrick, New York and really are across the street from each other.
Romano told Larry King in 2005 that he was doing stand-up comedy for a dozen years when he appeared on Letterman. The next week, his company called to say they wanted to develop a show around his stories. He met with Philip Rosenthal who had been a writer for Coach.
Philip Rosenthal then created this show which debuted in September of 1996 and stayed on the air until May of 2005, producing 210 episodes. (Romano and Roberts were the only two characters to appear on every one of the 210 shows.) The shows were filmed with a live audience for most of the nine years.
Real life intersects with television life in a variety of ways in this show. In addition to the Barone kids being real siblings, Ray's daughter Alexandra appears on the show from time to time as Ally's friend Molly. Ray's brother in real life was also a police officer at the NYPD. Rosenthal's wife Monica Horan later joins the show as Amy and marries Robert. Ray's father Albert portrays Frank's friend Albert. And, Heaton's real-life husband David Hunt plays Bill Parker on several episodes.
Ray tries to keep peace between his wife and his mother but fails most of the time. Marie often criticizes Debra and the way she behaves as a wife and mother. He often leaves most of the children and household responsibilities to Debra. Marie obviously favors Ray, the younger of the boys, to Robert's frustration. Ray and Robert are often seen arguing like ten-year-old boys. Frank is a bit of a gruff and rough man. Anyone is a potential target for his many insults, especially his wife. However, deep down he loves his family a lot, and we get to know him better as the show continues.
Boyle claimed that he got lost on the way to his audition, so when he showed up he was sarcastic and frustrated which helped him get the part. Garrett was the first actor given a role. Roberts was busy with a play so she came to the audition without any preparation and acted by her intutiion, obtaining the role over 100 other women. Heaton was a bit stressed, earning a living by babysitting and clipping coupons and the execs found her "real and focused." The role came down to Heaton and Jane Sibbett but Ray preferred Heaton.
The show has a timeless quality about it since it focused more on telling stories and reflecting on busy lives. Rosenthal said writing sessions started with everyone talking about their lives until they got an idea. Rosenthal admitted that "ninety percent of everything you hear on the show has been said to me or Ray Romano or one of the writers." An episode was filmed every week. The actors did a read through and rehearsed on Monday, rehearsed with the tweaks made Tuesday, CBS running rehearsal Wednesday, camera blocking Thursdays, and filming Fridays.
The critics liked the show from the beginning. Los Angeles Daily News critic David Kronke said it "was the quintessentially honest sitcom. It's neither too hokey nor too crass. It depicts families as dissolute yet inextricably bound together, just like they really are, and finds the humor in those real frictions that threaten, yet never manage, to burst family units apart. Its characterizations are among the most finely defined on TV. Debra, with her vaguely no-nonsense disgust of Raymond's simpleton-ness, is unlike any sitcom mom ever. Doris Roberts' Marie had a sinister streak long before Nancy Marchand's Livia showed up on The Sopranos. Raymond is also one of the few contemporary sitcoms that has figured out how to implement and even exploit the four-camera, live-audience situation, which is no simple feat."
Betsy Wallace gave the show 4 out of 5 stars, claiming "the cast is stellar and plotlines shed light on universal human insecurities, such as doubting that your spouse still finds you attractive as you grow older." In 1997, Bruce Fetts said the series "may now be the best sitcom on the air."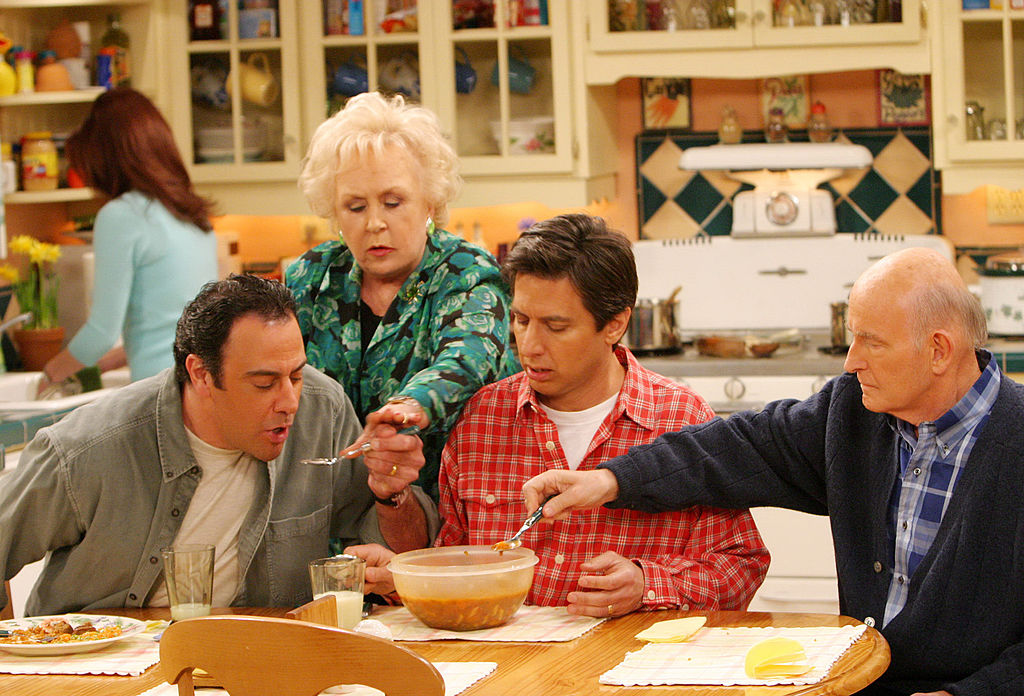 The show received 69 Emmy nominations, winning 15 of them. Roberts won four times, Garrett three, Heaton twice, Romano once. Boyle was the only nominee never to win.
After nine seasons, the fans were still on board, but the writers felt they had run out of ideas to keep a tenth season interesting, so the show ended. Knowing when it's time to terminate a show and allow it to end gracefully is a wonderful gift for viewers.
With nine years of amazing shows you're not going to be able to binge watch the entire series in a week-end, but it's a great way to spend a season's worth of cold, winter days. Thanks for nine years of memorable shows; we love you all.