This blog series is "It's My Show," about actors who featured their names in the titles of shows. I've definitely saved the best for last: The Dick Van Dyke Show. During the past five plus years of writing my blog, I have realized that my favorite shows are those that feature amazing writing and concentrate on relationships. This show is no exception.
From 1961 till 1966, this show aired on CBS, resulting in 158 episodes. Created by Carl Reiner, it was produced by Calvada Productions. Calvada was named for Carl Reiner, Sheldon Leonard, Dick Van Dyke, and Danny Thomas. The show was filmed at Desilu Studios in front of a live audience. Bill Persky and Sam Denoff wrote 29 of the episodes.
The theme song was written by the great Earle Hagen. (For more on Hagen, you can see my blog from December 10, 2018; Hagen wrote many great theme songs including The Danny Thomas Show, Gomer Pyle, I Spy, The Mod Squad, and most memorably, The Andy Griffith Show.)
The opening of the show had Rob walking into the living room. In one version, he trips over an ottoman, falling on the floor. In the another, he steps around the ottoman. You never knew which opening you would see, a fun element of the show.
I love that this show realized our professional lives are equally important to our personal and family life, and this show not only featured both, but often they meshed together just like all our lives do.
Not only was Rob Petrie's (Dick Van Dyke) work life part of the show, but he was a television writer, which provided even more insights into what we were watching. Rob writes "The Alan Brady Show" with cowriters Sally (Rose Marie) and Buddy (Morey Amsterdam). Mel (Richard Deacon) is star Alan Brady's (Carl Reiner) producer. Buddy and Mel have an ongoing feud, insulting each other on a daily basis. (In real life, Deacon and Amsterdam were good friends and often came up with new insults when they had drinks together after work.) Reiner originally planned on starring in the show and played Petrie in the pilot, but he was persuaded to give the role to another actor by Leonard.
Rob's home life consisted of wife Laura (Mary Tyler Moore), son Ritchie (Larry Mathews), and neighbors/best friends Jerry and Millie Helper (Jerry Paris and Ann Morgan Guilbert). Paris directed 84 of the show's episodes and would go on to a career as a director later.
In the pilot, titled "Head of the Family," Barbara Britton played Laura, Gary Morgan played Ritchie, Morty Gunty played Buddy, and Sylvia Miles played Sally. Jack Wakefield played Alan Sturdy who was the star of the tv show.
The characters are very much like people we all know, except maybe a bit funnier. Rob loved his wife and son. He was a big fan of cowboy movies and Laurel and Hardy. He met Laura, a USO dancer, when he was in the Army as a Special Services Sergeant in Camp Crowder, Missouri. His brother Stacey appeared on the show a few times (played by real life brother Jerry Van Dyke). Richie is a typical kid who gets in trouble sometimes but is a good kid, just curious and looking to test his boundaries. Their neighbors Millie and Jerry have a son about Richie's age, and they are their best friends; Jerry is also their dentist.
The only thing not realistic about his home life is that Rob and Laura have twin beds. Reiner asked the network to allow the couple to sleep in the same bed, but they would not approve it, so like most sitcom married couples, they had separate beds. About the only couples who were able to get around the challenge were the Stephens on Bewitched and Katie and Robbie on My Three Sons. The network also didn't love that Moore wore capri pants but they did end up allowing her to do so.
Rob's coworkers are also endearing characters. Buddy is energetic and sarcastic. He is married to Pickles and shares a lot of jokes about some of the scatterbrained things she does. We know he is in love with Sally, but they never take their relationship anywhere other than friendship. She is often making fun of herself for looking for a man, but we realize she is very lonely. Mel is an excellent producer who puts up with a lot from both Buddy and Alan.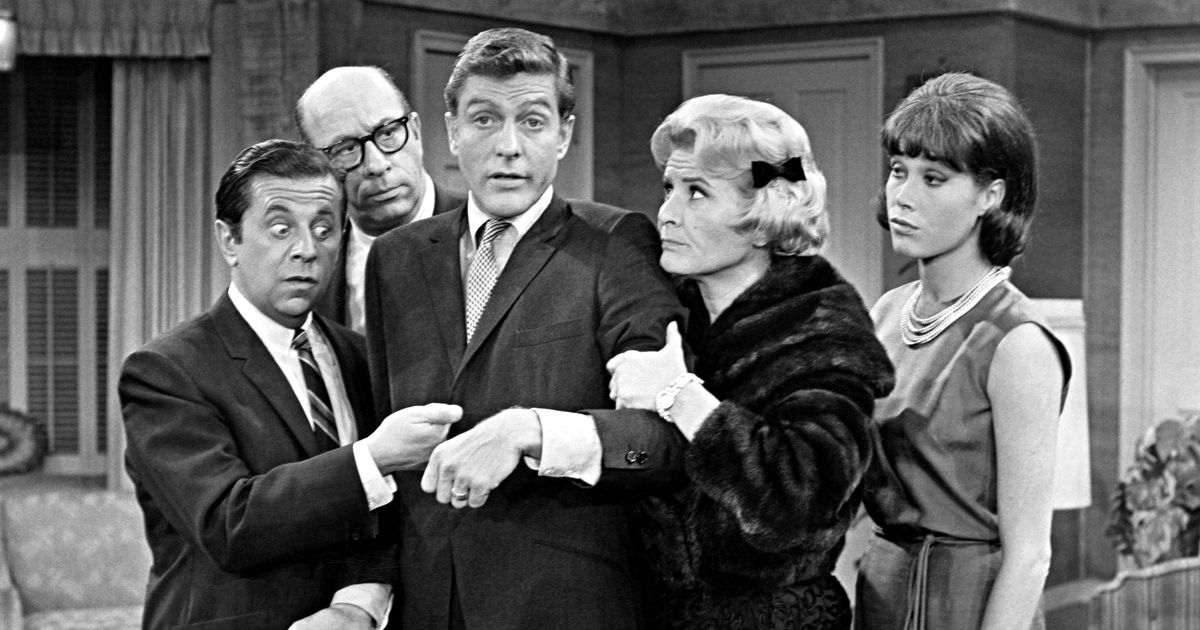 Van Dyke had to give up Bye, Bye Birdie to star in the show but definitely made the right choice. The role of Laura was a hard one to cast. Sixty actresses auditioned for the character. Moore almost chose not to go, and when she did, she lied about her age, making herself older than she was. Sally Rogers was based on Lucille Kallen who wrote for Your Show of Shows and Selma Diamond who wrote for Caesar's Hour.
After the first season, CBS said they were cancelling the show. Procter & Gamble threatened to remove all its advertising and viewers complained loudly. The network didn't need to worry about ratings in season two; the show was in the top ten by episode three and was popular for the rest of its time on air.
To color or not was a big question during the sixties. Reiner actually considered filming the show in color in the third season until he found out it would add $7000 per episode (the equivalent of about $59,000 today).
I'm not the only one who thought this was an amazing show. The series was nominated for 25 Emmy awards and won 15 of them. Reiner won three times for writing, Van Dyke three times for acting, and Moore twice for leading actress in a comedy role.
Some of my favorite episodes are "Pink Pills and Purple Parents" (season 4) a flashback to when Laura meets Rob's parents. She takes some anti-anxiety medicine Millie gives her. She gets a bit loopy and Rob's mother thinks she has a drinking problem; "The Ghost of a Chantz" (season four) where Rob, Laura, Buddy, and Sally spend the night in what's said to be a haunted cabin. Characters disappear one by one and finally we learn that Mel pranked them to test out a concept for a show called Sneaky Camera; "Coast to Coast Big Mouth" (season five) when Laura reveals on a TV game show that Alan is bald and wears a toupee. Laura bravely goes to the office to apologize; another one about Laura, "The Curious Thing About Women" (season one) when Rob writes a comedy skit about Laura's bad habit of reading his mail. All her friends tease her after it airs, and she tries to deny it, but when a package comes to the house, she opens it and an inflatable raft opens up which she cannot put back; and finally, "That's My Boy" (season 3) when Rob is convinced that the hospital switched their son with another boy born that day. He has to resolve this, and invites the other couple over to discuss the situation. When Rob opens the door, he sees an African American couple, and it gets one of the longest audience laughs than any other sitcom episode.
CBS may have wanted to end the show after season one, but they did not want to end it after season five. However, the cast made the decision to quit while they were still producing high-quality shows. I appreciate that they did this. One of the saddest things for me as a viewer is when a show goes on a year or two longer than it should and the quality diminishes greatly.
I just can't think of anything about this show that needed improving. It had a great cast, great writers, likable characters, and a timeless quality. Sixty years after the show began, it is just as funny and easy to watch as it was then. Thank you, Carl Reiner and cast, for knowing how to make a memorable show and when to end it to keep it that way.