We are in the middle of the "It's My Show" blog series, and today we are looking at a show that debuted in the mid-nineties. Although it feels like it was yesterday, we are looking back 25 years to The Drew Carey Show.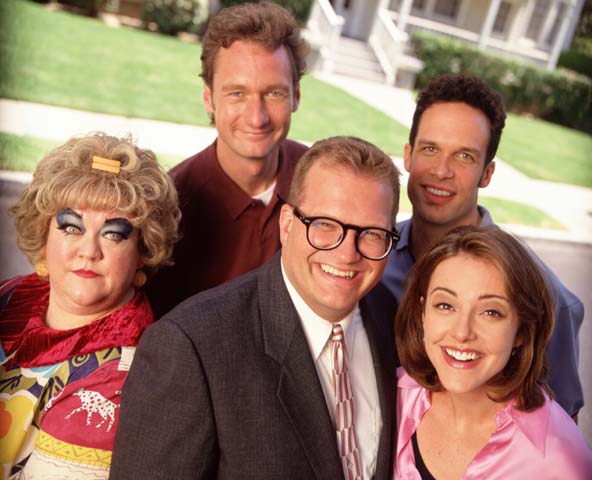 Carey created the show from his stand-up comic and writing background, along with Bruce Helford who wrote for the television series, Roseanne.
The show aired on ABC from September of 1995 until September of 2004. When Drew tried to explain his character, he described him as "what the actor would have been if he had not become an actor." The show centers around Drew and his friends: unambitious Lewis (Ryan Stiles), not-so-bright Oswald (Diedrich Bader), and on-and-off again girlfriend Kate (Christa Miller).
Set in Cleveland, Drew works for the department store Winfred-Louder as Assistant Director of Personnel for the first seven seasons. His coworker, Mimi (Kathy Kinney), who always looks like the before photo in "how to apply your make-up correctly," is also featured in the show. When the show begins, she and Drew strongly dislike each other, but they become closer over the run of the series. Drew also moonlights with his group of friends, making and selling Buzz Beer, a caffeinated alcoholic beverage, out of his garage. The beverage gains a following and is served around the city including at Drew's hang-out, The Warsaw Tavern.
The theme song bounced around a bit. In season one, the song "Moon Over Parma" was used with a few lyric changes to reference Cleveland. The second season ushered in "Five O' Clock World." The fourth season replaced this theme with "Cleveland Rocks." In the eighth season, the previous three themes were all used but in a different genre each week.
One unusual aspect of Drew's show was his frequent "event" episodes. For example, one episode featured the theme "What's Wrong with This Episode?" and invited viewers to find errors to win a prize. There were three live productions when they actually did the show twice, one for each coast. There was also a prolonged story when Drew is in a coma.
The show received praise from critics and viewers. It spent its entire life on Wednesday nights. Seasons two through four it was in the top twenty but Season five started to decline and the ratings dropped drastically during the final two seasons.
I have to admit I never watched this show when it was on in prime time. When I look at the opposing shows, they weren't anything I tended to watch either except for West Wing a couple years, so I'm not sure why I missed it in its first life.
It was on about the same time as Friends with a similar theme but Friends has had an incredible after life and Drew Carey's show has not. A lot of people describe the show as "mean." With the popularity of Whose Line Is It Anyway? which I do enjoy, you would think that would spark a rerun of the show.
The show seems similar to Seinfeld as well. It is about a guy and his close-knit group of friends. However, where Seinfeld was always described as being about "nothing," Drew Carey's show seems to be about "everyman." I got the impression from some viewers that they were so much like everyman they were extremely boring.
Apparently, only season one is available to watch. There are several places including Amazon and Apple TV where you can purchase an episode. That is also the only season available on DVD, but I could not find out why. Apparently, it aired as a rerun on the CW for a bit but since that time it has never been in rerun syndication, and only two seasons were ever on Hulu; none of the show has been available on Netflix as far as I can find. One source did mention that there is so much copyrighted material in the shows that would need to be edited out, it would not be possible to do a DVD set.
Since I don't have a lot of personal knowledge about this show, and most of the seasons are not available to view, I will leave the final word to a few of those fans who did write reviews of the show.
This show wasn't as funny as I thought it would be, but it's okay. No profanity, which is always a plus for me. But I could do without all the references to sex among the characters.
*************************************************************
AllisonLVenezio11 April 2001
U know, before Drew Carey got his own show, I didn't even know who he was. This show truly capitalizes his talents as a comedian and actor.

"The Drew Carey Show" is by far one of the funniest sitcoms on television in recent years. It also happens to be my third favorite show. Our bespectacled hero, Drew, works in a Winfried-Louder Department Store's offices, run by a dorky Scot, Nigel Wick (Craig Ferguson). His arch-nemesis, Mimi Bobeck-Carey (Kathy Kinney) wears tons of make-up and tacky clothes, much in the same sense that Peggy Bundy on "Married with Children" was the queen of tacky. Of course, Drew has his girlfriend, Kate (Christa Miller) and his dopey buddies, Lewis Kiniski (Ryan Stiles, who upstages Carey) and Oswald Lee Harvey (Deidrich Bader).

This show is very funny. The plotlines are always interesting, and of course, Lewis and Oswald have to accomplish some stupid feat in the 1/2 hour (ie: they used $8000 to record an album using classic songs, with them–"Tequila" or Lewis saying "Wipeout!") Of course, everyone gets into a big mess, Mimi insults Drew, Drew plots revenge, and everything is said and done in the half hour.

I love this show, and highly recommend it to everyone who has a good sense of humor. Drew Carey's standup is excellent, and this show just adds another good credit to a very talented man!
*************************************************************
Jeremiah Avery said…
I do remember the show. There were some funny interactions among the characters (e.g., Oswald and Lewis) and Craig Ferguson was a funny foil/boss of Drew's. However, it's not a show I'd be clamoring to see again. If I ever caught it while flipping through, I might watch a little of it before moving on. I'm 35 but I think only a handful of shows from the 80's and 90's would get frequent viewing from me now (e.g., "Cheers", "Frasier", "Married with Children" and "Seinfeld").
*************************************************************
starwarstrek16 February 2000
This is one funny sitcom! Drew Carey and his co-stars (especially Kathy Kinney as Mimi Bobeck) each have an ingenious sense of comic timing! In addition, the show itself fairly accurately portrays the plight of the normal, everyday guy who's trying to find both love and success in today's world. Plus, the show sometimes has some highly loony episode storylines and crazy sight-gags that are normally only seen in movies! I would highly recommend this TV series to any serious comedy buff!
*************************************************************
McAlvie said…
I do vaguely remember it, although I was never a big fan. My suspicion for why it has mostly disappeared is that while its audience was loyal, it was pretty narrow. In most shows, you can have a group of sad sacks or outcasts, but you also need someone relatable to ground the show. I don't think the show had that. Drew Carey might have been the central character, but not a terribly strong one. Then that narrow audience grows up.
*************************************************************
Cleveland Rocks! Cleveland Rocks!
SonicStuart17 August 2004
A great sitcom comedy show! The show is about Drew Carey and he works at a department store where he is the assistant personal director in Cleveland and he has been stuck at his job for ten more years. Other than fighting with co-worker Mimi, his hobbies include drinking beer and not being able to get dates. To make a few extra bucks he has a micro-brewery going in his garage with his buddies Lewis and Oswald. This show is so funny and I also like the intro to this show entitled "Cleveland Rocks" in the opening we see Drew and the others running out of the building and then tail-gating at a Cleveland Indians baseball game and then you see Drew and the crew dancing and at the end of the intro Drew yells "OHIO"! My favorite characters from this show were Lewis and Oswald. They have got to put this show out on DVD. Another great 90's ABC sitcom!
*************************************************************
I'm not impressed anymore.
5 July 2003 | by shrek2004 – See all my reviews
Eh. Not the greatest show ever. The whole "Buzz Beer" thing is totally overrated, and so is Kate. Some of the shows, however, are very good (like when Drew goes to the Value Date class, or winds up working in the cafeteria, or getting sent to China). Some of the best episodes are from 1997-1998, I seem to remember that was when this show was in it's prime. After Nicki left, it was all downhill from there.
Thumbs up or thumbs down?  I'll let you decide. I would love to hear your opinion of the show.