We are winding down our blog series, "What A Character." If you watched television between 1959 and 1989, you will definitely recognize this week's character actor: Allan Melvin.
Melvin was born in 1923 in Kansas City, Missouri, but he always said he grew up in New York City where his parents moved to not long after his birth. After high school, he attended Columbia University, studying journalism before joining the US Navy in WWII.
He married Amalia Sestero in 1944 and they were together for his entire life and had two children. Amalia was also an actress and Melvin met her when he attended an actor's group that she helped start.
After being discharged from the Navy, Allan worked in the sound effects department of NBC Radio. He also had a nightclub act. He was on Arthur Godfrey's Talent Scouts radio show which he won. His first television role was that of Corporal Steve Henshaw on The Phil Silvers Show. Melvin's wife remembered that time fondly: "I think the camaraderie of all those guys made it such a pleasant way to work. They were so relaxed."
After the show ended, Melvin was often typecast as a military character or the abrasive, but happy-go-lucky guy. Even when he was not a recurring character, he often had multiple appearances on a series.
Allan and Amalia moved their family to California, hoping for more television roles in the early sixties.
Throughout the sixties, Melvin was kept busy with television work, appearing on The Danny Thomas Show, The Bill Dana Show, Perry Mason, Lost in Space, Love American Style, and The Andy Griffith Show. He had two recurring roles: Art Miller on The Joey Bishop Show and Sol Pomerantz on the Dick Van Dyke Show.
He was often cast as the tough guy on The Andy Griffith Show, with eight appearances in all. Melvin discussed his time on the show and said "I always enjoyed doing the show. We had a lot of fun doing it, and they were a great bunch."
From 1965-1969 you could find him on Gomer Pyle USMC as Sergeant Charlie Hacker.
As early as 1963, Melvin was doing voice work on The Flintstones.  His animation work would continue throughout his career and after about 1974, cartoon voices were his only gigs. One of his best-known roles is Magilla Gorilla.
I'm not sure why, but Melvin only appeared in one movie, although it was a good one. He was the desk sergeant at the end of the Doris Day-Brian Keith film, With Six You Get Eggroll. A couple of Andy Griffith writers wrote the screenplay, and Howard Morris, known as Ernest T Bass, directed the film.
In the 1970s he was cast in his two most memorable roles.
He was Sam Franklin, Alice's boyfriend on The Brady Bunch. Sam owned a butcher shop and was an avid bowler. In a later movie, we learned that he finally made an honest woman of Alice. Ann B Davis said "Allan Melvin, neat guy, very tall. He was just a nice, open, big guy, and it was fun to play with him."
He was also neighbor and friend of Archie Bunker as Barney Hefner on All in the Family and Archie Bunker's Place. Allan said it was a good experience and everyone's input was welcome. Jason Wingreen, who played Harry the bartender on the show talked about Melvin in anther wordpress blog, classictvhistory (https://classictvhistory.wordpress.com/tag/allan-melvin/). When asked if he was the same in person as he was in character, Wingreen said, "He was more intelligent than that. Allan wrote little poems, little couplets of sorts, and they were very funny. Like limericks, but not quite limericks. Some of them were very intelligent and very, very funny. Never published. Allan and I became very close friends."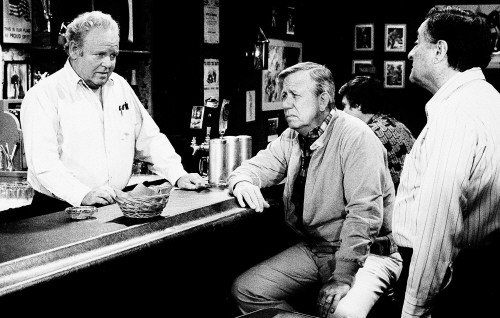 Melvin also did a lot of commercial work. You could see him pitching products from Sugar Frosted Flakes to Remington razors to Liquid Plumr. He was the plumber for Liquid Plumr for fifteen years.
In 2008, Melvin died from cancer.
Melvin certainly had a career to be proud of. One thing I never learned was when he decided that acting was the career he wanted. He became one of the most beloved and most-recognized character actors in the sixties and seventies–definitely a character worth celebrating.