In October we are having fun with the "What a Character" series. Although this actress spent less than two decades on television, she had a memorable career. Today let's learn more about Mary Jane Croft.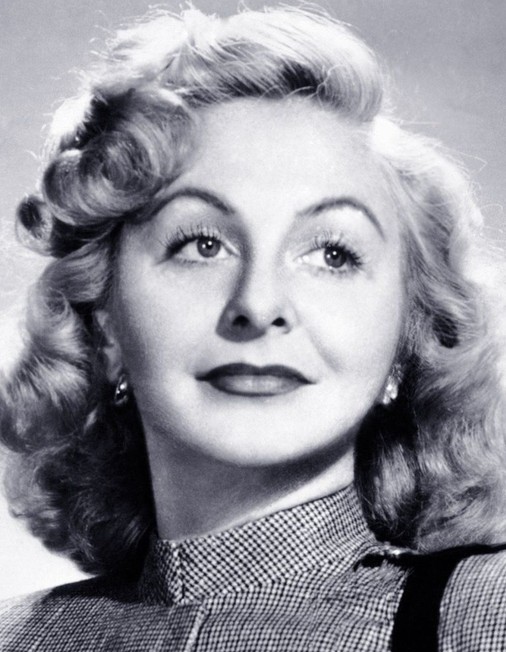 Mary Jane Croft was born in 1916 in Muncie, Indiana. She described herself as a "stage-struck 17-year-old just out of high school," when she began working at the Muncie Civic Theatre. Moving on to the Guild Theatre Company in Cincinnati led her to radio station work at WLW.
In the thirties, she received a lot of experience and she described her work there: "from 1935-1939, I played parts with every kind of voice and accent: children, babies, old women, society belles, main street floozies—everything." She appeared in Life with Luigi, Blondie, The Adventures of Sam Spade, The Mel Blanc Show, and Our Miss Brooks, among other shows. She was a frequent guest star on My Favorite Husband, Lucille Ball's radio show which would become very important to her television career.
Croft had married Jack Zoller, another actor earlier in her life. The marriage did not last long but produced a son, Eric. After her divorce, she moved to Hollywood in 1939.
While Croft appeared in three big-screen films, most of her professional career was spent on television. Her first role was in Eve Arden's show, Our Miss Brooks from 1953-1955 once it moved from radio to television. She portrayed Daisy Enright whom she had also voiced on the radio show. Daisy and Connie Brooks competed for the head English teacher position and for the attention of Mr. Boynton. During that time, she also was cast in The Lineup, The Life of Riley, I Married Joan, and Dragnet.
From 1954-1957, she was on I Love Lucy seven times. She and Lucy continued both their professional and personal relationships. In the final season of Lucy's show, she played Betty Ramsey, a neighbor of the Ricardos and Mertzs when they moved to Connecticut.
In the mid-fifties, she showed up on A Date with Angels, The Eve Arden Show, and The Court of Last Resort.
In 1959, she married Elliott Lewis and they were married until he died in 1990. She met Lewis while appearing on Lucy's show; he was the producer. Sadly, her son Eric was killed in action in Vietnam.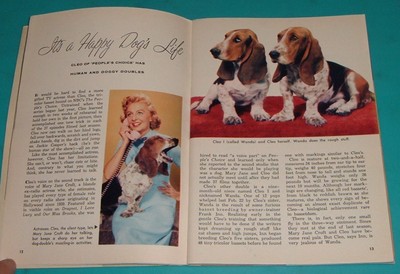 From 1955-1958 she was the voice of Cleo on The People's Choice for 99 episodes. This is another one of those quirky shows from the fifties. The premise is that Socrates Miller, known as "Sock," joins the city council and clashes with the mayor, John Peoples. Sock then dates and marries John's daughter Mandy. Sock has a basset hound named Cleo, and Cleo shares her thoughts with the audience about what is going on.
From 1955-1966 she appeared as Clara Randolph on the Ozzie and Harriet Show for a total of 75 episodes. Joe and Clara Randolph were the Nelsons' neighbors and good friends.
Although Croft did accept roles on Vacation Playhouse in 1966 and The Mothers-in-Law (another Arden show) in 1969, her career from 1962-1974 was with Lucille Ball. She was on The Lucy Show from 1962-1968 as Mary Jane Lewis when Lucy's original sidekick Vivian Vance left the show. She continued that same role into Here's Lucy from 1969-1974 for an additional 34 episodes.
Her last acting credit was a TV Movie with Lucille Ball titled Lucy Calls the President.
Croft died of natural causes in 1999.
Geoffrey Mark who wrote The Lucy Book: A Complete Guide to Her Five Decades on Television, got to spend time with Croft. He said she was "nothing like the characters she played," in an exclusive interview with Closer Weekly. "She was intelligent, thoughtful in her speech and prettier than you would think. I found her to be very honest in that there was no nonsense about what she said. If she said it, she meant it. She was aware that she had become this icon mostly because of her association with Lucille Ball, but also because of other things that she did."
When he asked her how she was able to assume so many character voices, she said that she thought about what the backstory of the character might be and invented a voice that would serve that character. It was something she learned when she worked in radio.
Although Croft only appeared on 26 different shows, she had a busy and lucrative career. She is remembered for three major roles: Daisy Enright on Our Miss Brooks, Clara Randolph on Ozzie and Harriet, and Mary Jane Lewis on The Lucy Show and Here's Lucy. And even if her television career was not long, she was in the entertainment business for her entire life after graduation. She created many memorable radio voices as well. With her numerous roles, she truly was quite a character.