From 1952-1961, you could tune into Gunsmoke on your local radio to hear the adventures of the folks in Dodge City, Kansas created by Norman Macdonnell and John Meston. The primary characters were Marshal Matt Dillon (William Conrad), Doc Charles Adams (Howard McNear), Miss Kitty Russell (Georgia Ellis) and Chester Wesley Proudfoot (Parley Baer). Three years after its debut, the series shifted to television as well, running on CBS from 1955-1975, producing an incredible 635 episodes. For television, Macdonnell took over the reins as producer with Meston the head writer.
James Arness was offered the role of Dillon on television. The network wanted John Wayne who turned it down. He did, however, introduce the first episode. Both Raymond Burr and Denver Pyle were also considered for the role. Matt Dillon spent his youth in foster care, knew the Bible well, and at some point was mentored by a caring lawman. He also talks about his time in the Army in some episodes.
The role of Chester, with a new last name of Goode now, was played by Dennis Weaver. Chester was not only a loyal employee to Marshal Dillon, but he brewed a mean pot of coffee. He had a noticeable limp which apparently resulted from an injury in the Civil War. Weaver later said if he realized how hard it would be to film that long with a fake limp, he would have not used it. Other sidekicks to the Marshal included Ken Curtis as Festus Haggen, Burt Reynolds as Quint Asper (1962-65), Roger Ewing as Thad Greenwood (1966-68), and Buck Taylor as Newly O'Brien (1967-75).
Doc was now Galen Adams and played by Milburn Stone. Doc was an interesting guy. He apparently was educated in Philadelphia and spent some time as a ship doctor on gambling boats on the Mississippi River where he met Mark Twain. His young wife died from typhus two months after their marriage. He finally settled in Dodge City after wandering a bit.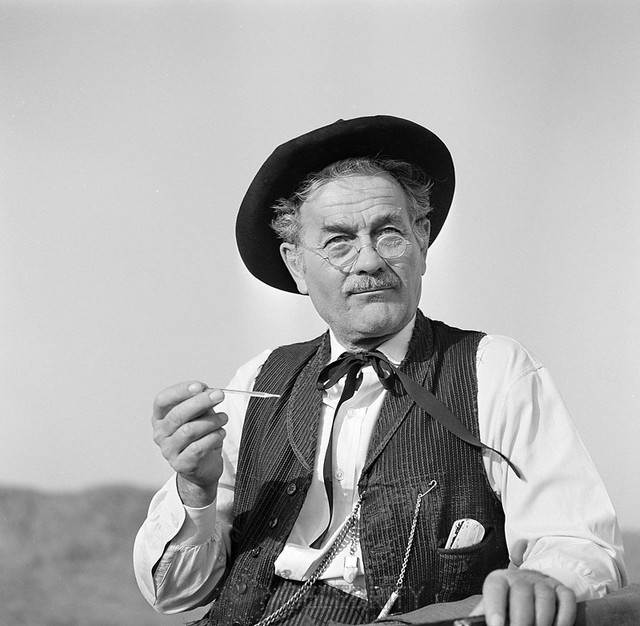 Miss Kitty was portrayed by Amanda Blake. Perhaps the closest bond she had with Dillon was that she also grew up in foster care in New Orleans. She was in more than 500 of the television episodes. In addition to her role as "entertaining men" in Dodge City, she is half owner of the Long Branch Saloon. Kitty and Matt obviously are attracted to each other and are very close. Kitty was a successful business owner and had a cold demeanor about professional matters but had a soft heart in other matters. Blake was ready to leave the show in 1974, and her storyline was that she finally returned to New Orleans.
During its twenty-year stint, the show had some notable guest stars. Just a few celebrities who graced the set include Jack Albertson, Ed Asner, James Backus, Beau Bridges, Charles Bronson, Bette Davis, Angie Dickinson, Richard Dreyfuss, Buddy Ebsen, Barbara Eden, Jodie Foster, Mariette Hartley, Ron Howard, June Lockhart, Jack Lord, Rose Marie, Howard McNear, Harry Morgan, Leonard Nimoy, Carroll O'Connor, Denver Pyle, Wayne Rogers, William Shatner, Cicely Tyson, and Adam West.
While the show portrayed the hard life in the West, it was also a warm and humorous celebration of a group of people making a new life together.
The opening of the show is a gunfight between Matt and a "bad guy." It was shot on the same Main Street set used in High Noon, the Grace Kelly/Gary Cooper classic. The scene was dropped in the 1970s when a nonviolence emphasis was placed on television shows and the opening was Matt riding his horse.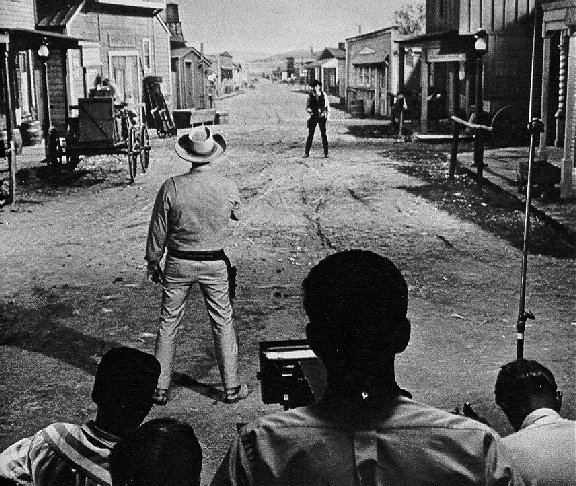 The show began its life on Saturday nights at 10 pm ET. In 1961 when the radio show left the air, the television show switched from half an hour to an hour. For season 13, it moved to Monday nights at 7:30 for four years, and then at 8 pm for four years. By season two it was a top ten hit, rising to number one where it remained until 1971.
The first seven seasons were sponsored by L&M cigarettes and Remington shavers.
The well-known theme from the show and radio was "Old Trails" composed by Rex Koury. Lyrics were later recorded by Tex Ritter in 1955 but not used in either radio or tv. Although I could not confirm it, I read several mentions that Koury was so busy, he actually penned the song while using the bathroom. William Lava composed original theme music for television; other composers who contributed music during the twenty years were Elmer Bernstein, Jerry Goldsmith, Bernard Herrmann, Jerome Moross, and Franz Waxman.
Surprisingly, the show was only nominated for fifteen Emmys during its reign. Of those, there were only three wins: one for best dramatic show in 1957, one for Dennis Weaver as supporting actor in 1958, and one for Milburn Stone in 1967.
After surviving the rural purge Paley conducted, the cast thought they were not in jeopardy and were all stunned by the cancellation in 1975. CBS had not prepared them that they were debating ending the show. They assumed the show was continuing till it had 700 episodes and many of the stars read about the cancellation in the trade magazines.
The show has appeared in syndication in three different versions. One package is half-hour episodes from 1955-1961, one package contains hour-long black and white episodes from 1961-1966, and the final package contains one-hour color episodes from 1966-1975. Me TV currently airs the one-hour color shows.
Arness would appear in five made-for-television movies after the show went off the air. In 1987, Gunsmoke: Return to Dodge featured Blake as Miss Kitty and Taylor as O'Brien. Stone had passed away in 1980, so his role was not part of the new film. Gunsmoke: The Last Apache premiered in 1990 without Blake who had died in 1989. In 1992-1994, Gunsmoke: To the Last Man, Gunsmoke: The Long Ride, and Gunsmoke: One Man's Justice would appear before the series rode off into the sunset for good.
After being on television so long, it's not surprising that there were a lot of merchandising opportunities for the show. In addition to typical items like lunch boxes, there was Gunsmoke cottage cheese. A Matt Dillon figurine was available with his Horse Buck.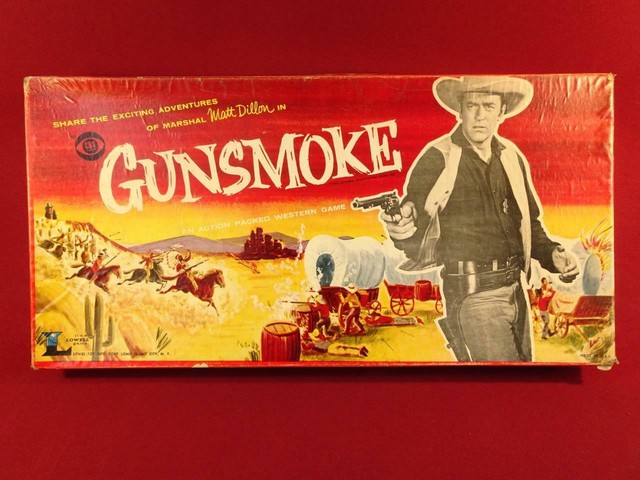 There were also board games, puzzles and a variety of books including numerous paperbacks and comic books from Dell and Gold Key.
Fans had an affinity for the show. During its time on the air more than thirty westerns came and went, but Gunsmoke continued, in the top ten for most of its two decades. Few series have their own museum, but you can visit Boot Hill Museum in Dodge City to learn all about the show. Furniture from the series is included, as well as signed photos from the cast and other memorabilia including one of Miss Kitty's dresses.
When you hear someone say "Get outta Dodge," you can fondly remember Gunsmoke which is where this phrase began. Perhaps being cancelled was a blessing in disguise. After two decades, maybe it was time to get outta Dodge, maintaining the high standards and high ratings that made the show such a long-running success.