This week we are winding up our series of favorite female actors with Charlotte Rae. If you remember last week we learned about June Lockhart. Charlotte was born a year after June and died a year before her, and their careers were very similar. Both were actresses for more than six decades, appeared in Broadway, movies, and television.
Rae was born in Milwaukee, WI in 1926. Her parents were Russian Jewish immigrants. Her mother Esther had been friends with Golda Meir since childhood. For her first ten years, the family lived above her father's tire business. In 1936 they moved to a home in Shorewood. At age 16, she became an apprentice with the Port Players, a professional theater company that came to Milwaukee for the summer. After graduation, Charlotte did some radio work and did some performing with the Wauwatosa Children's Theatre.
Although she never completed her degree, Rae attended Northwestern University. She and Cloris Leachman became friends there. She also met Agnes Nixon, Charlton Heston, Paul Lynde, and Claude Akins. In later years she would always recommend wanna-be actors get a degree first.
In 1948, she moved to New York City where she performed in theater and nightclubs. She worked at a variety of clubs including the Village Vanguard and the Blue Angel. During her early days, a radio star told her that her last name of "Lubotsky" would not work well, and she replaced it with her middle name of Rae.
In 1951 she received her first television job on Once Upon a Tune. She would appear on ten other drama theater shows during the fifties. In an interview with Milwaukee Talks in 2016 she said, "When I started out, I wanted to be a serious actor, I never thought I'd get into comedy."
The same year, Rae married composer John Strauss. They had two sons, but in the mid seventies he came out as a bisexual. Rae was not interested in an open marriage, so the couple decided to divorce in 1976.
Charlotte also loved singing, and she released an album in 1955, Songs I Taught My Mother. Rae also loved being on the stage. In the seventies, Vanguard Records went out of business, and Rae was able to buy back the album for $5000.
She would have stage roles in "Three Wishes for Jamie" in 1952, "The Threepenny Opera" in 1954, "Li'l Abner" in 1956, and "Pickwick" in 1965 among others. Later in her career she would also appear in several off-Broadway shows.
In 1958, she got a break with a guest spot on The Phil Silvers Show which led to her getting the part of Sylvia Schnauzer, the wife of Leo Schnauzer (Al Lewis) on Car 54 Where Are You when it debuted in 1961. Her husband John did the music for the show. Apart from that role, most of the other television work she did in the sixties was in drama series.
Rae also appeared in 14 big-screen movies. Can I take a shameless plug and say that one of my favorite Charlotte Rae roles is in Hello Down There? This movie from 1969 screams IT'S THE SIXTIES from the moment it starts until it ends, but it's a great sit-back-and-just watch movie. If nothing else, it has an amazing cast including Tony Randall, Janet Leigh, Ken Berry, Jim Backus, Merv Griffin, and Richard Dreyfuss among others.
The seventies were her busiest decade of work. She started with a recurring role on Sesame Street as Molly the Mail Lady. During the early seventies you could see her on The Partridge Family, McMillan and Wife, Love American Style, and The Paul Lynde Show. I always appreciated her character on The Partridge Family. When Danny is thinking about quitting school to get on with life, she plays his very smart and creative guidance counselor.
In 1974 Rae moved to Los Angeles. She did guest spots on All in the Family and Good Times, both Norman Lear shows. In 1975, she became a regular on Lear's show, Hot l Baltimore. She played Mrs. Bellotti, whose son lived at the hotel. The show was a bit controversial and was cancelled after the first season.
During the remainder of the seventies, Rae kept busy working for a variety of genres. You could have seen her on The Flying Nun, Barney Miller, The Rich Little Show, All's Fair, CPO Sharkey, Family, The Eddie Capra Mysteries, and on her friend Cloris Leachman's show Phyllis.
In 1978 Norman Lear was working on Diff'rent Strokes about a single father who adopts two brothers whom he raises along with his daughter with help from his housekeeper. Lear signed Rae on as the housekeeper. Charlotte wanted to do the series, but as she related in a Television Academy interview, she was under contract at CBS when NBC made the offer. She had a few weeks left on her CBS option. The network offered her the role of a lady sheriff on a new western but it didn't ring true to her, and she didn't want to do it. While she was filming an Eddie Capra Mystery episode, she drove over to explain her predicament to Lear. He said that Bud Grant owed him a favor and he did indeed get her out of the contract.
One episode on the first season was "The Girls' School" when Edna Garrett is asked to help out at Kim's private school called East Lake. She does but at the end of the episode decides she'd rather be working in the Drummond home.
In an interview with the Television Academy, Rae said she thought she was going to be fired from Diff'rent Strokes. She noticed her lines getting fewer and fewer and when she was called into talk with the producer, she thought that was it. However, they proposed a spinoff show for her based on "The Girls' School" episode called The Facts of Life. They wanted Edna to become housemother for the boarding students at the school. It was a prestigious private school now called Eastland. The writers were focusing on issues affecting high school age girls including weight gain, dieting, depression, drug and alcohol use, dating, mental illness, and other subjects that kids that age deal with. Rae said the show was about growing up, family, love, and working out problems. "I had a lot of input with issues like suicide, divorce, death. I'm really very proud."
Charlotte was a single mother and afraid to lose her Diff'rent Strokes income on a possibility that might not pan out. The producers wrote into her contract that if the show was cancelled, she could return to Diff'rent Strokes, so she agreed.
The first season gained some fans, but ratings were so-so. For the second season, some cast changes were made and the show was moved from Fridays to Wednesdays. The show finished in the top thirty that year, and Rae became a household name. In 1982, Rae received an Emmy nomination. (She lost to Carol Kane from Taxi.) During the 1984 and 1985 seasons, Rae asked to be used less. She felt that the girls were older and would rely more on each other than a housemother for discussions about life issues.
When discussing the character of Edna, Rae explained "I want to bring in as much humanity as possible, as well as humor. I've tried to make her a human being with dimensions. The way they write her now is with a great deal of sensitivity and understanding. But I don't want her to be Polly Perfect, because she must have human failings and make mistakes. She's also a surrogate mother to the girls. I told them I wanted to be firm with the girls because I know it's important. Parents must lay down ground rules for their children to help them grow up and to learn responsibility for their actions. They must learn to stand on their own two feet."
Rae wanted to do more theater and she wanted to travel. When she decided to leave the series, Cloris Leachman replaced her in the role. The two-part finale of the eighth season had Edna Garrett marrying and moving to Africa with her husband to work for the Peace Corps. Her sister Beverly (Rae's real sister's name) comes for the wedding and then decides to stay with the girls at school. Cloris Leachman was signed on for two seasons. At the end of her time, she was willing to continue for another season, but cast members Nancy McKeon and Mindy Cohn were ready to end the show and take on new projects. It was not the end of the show, however. In 2001 a television reunion movie aired with much of the original cast. In 2007 the entire cast was invited to the TV Land Awards where they sang their old theme song.
Charlotte took on several other roles after leaving the show. During the eighties and nineties, she appeared on The Love Boat, St. Elsewhere, Murder She Wrote, Sisters, and Alex Mack among others.
She was busy until she passed away, and continued to act throughout the 2000s, including an appearance on King of Queens, and a recurring role on ER. Her last acting credit on television was in 2014's Girl Meets World.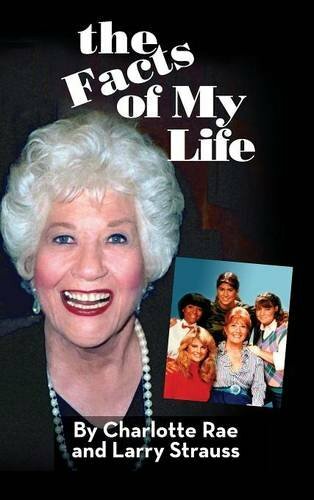 In 2015, Rae wrote her memoirs with her son Larry. At many of her book signings, adults came to purchase the book and told her over and over that they had been latch-key kids and saw Edna as a second mother to them. A description from Amazon sums up the book: "Charlotte Rae's career spans more than seventy years, from the golden age of television to Shakespeare in the Park, the New York Cabaret scene of the late 1940s and 50s to her hit series, The Facts of Life and well beyond. Off stage and screen, Charlotte's life has been one of joy and challenge, raising an autistic son, coming to terms with alcoholism, the heartache of a broken marriage, the revelation of a gay husband and the sudden challenge of facing middle-age with financial and emotional uncertainties–a crisis she ultimately turned into the determination that brought her stardom. The Facts of My Life is the first opportunity for Charlotte's fans to explore the fascinating story of her extraordinary life: poignant and hilarious, a story of courage and triumph, one that speaks for a generation of women breaking barriers, taking on challenges, overcoming personal tragedy, and paving the way for others."
Rae suffered from several health issues. In the early seventies, she joined Alcoholics Anonymous which was a critical part of the rest of her life. In 1982, she had a pacemaker implanted. It worked well for thirty years, but then stopped, requiring surgery for another smaller device. She also had open heart surgery to replace her mitral valve. Pancreatic cancer ran in her family, so she was screened often and when she was diagnosed with cancer, it was early so she had six months of chemotherapy and was then declared cancer free. In 2017, she was diagnosed with bone cancer. She died at her home in 2018. Todd Bridges from Diff'rent Strokes, tweeted, "You were loved by everyone on our show."
Charlotte said she never minded fans coming up to her because she realized that in being a television actor you were in people's homes. "It was an intimate relationship."
She said she wanted to be remembered as someone who took people out of themselves into a different world and allowed them to laugh or cry, and that would make her happy because we need as many laughs as we can get.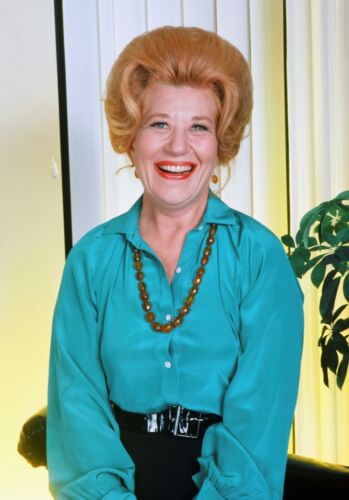 Thank you, Charlotte for making us cry a little and laugh a lot.