To begin the new year, we are looking at some of my favorite female television stars. We begin the series with Doris Roberts, everybody's favorite mother.
Doris was born in 1925 in St. Louis. When her parents split up, she went to the Bronx with her mother, and they lived with her grandparents. Her parents ran the Z.L. Rosenfield Agency which provided stenographic services to playwrights and actors. After studying journalism at New York University, she decided to try her hand acting, taking classes at The Neighborhood Playhouse School of the Theatre in New York City and working with Lee Strasberg at the Actor's Studio. In the fifties, she could be seen in a variety of Broadway shows including The Desk Set, The Last of the Red-Hot Lovers, and Bad Habits. She worked with Shirley Booth on The Desk Set and credited Booth with being her acting mentor.
In 1951 she accepted her first role in television, appearing on the show Starlight Theatre. She accepted roles on several 1950s drama shows. In 1956, Doris married Michael Cannata. They divorced in 1962, and a year later she married William Goven, a playwright. They would stay together until his death in 1986.
Doris was offered her first film role in Something Wild in 1961. She would go on to appear in more than 30 movies.
Her television career also began to expand in the sixties when she appeared in about nine drama series. However, it was the seventies when she hit her stride. During that decade, she would make appearances in Mary Hartman, All in the Family, Family, Rhoda, and The Mary Tyler Moore Show in addition to several others.
On All in the Family, Doris played a bar patron who befriends Edith. Originally, Roberts was offered the role of Vivian on Norman Lear's show, Maude but at the last minute, Lear asked Rue McClanahan to take the role over. Later Norman stated that he thought Roberts' character was too similar to Bea Arthur's Maude. On Mary Hartman, Mary Hartman, she played a faith healer Dorelda Doremus.
Doris mentioned that Lily Tomlin encouraged her to move to Los Angeles in 1973. After her relocation, Roberts received her first recurring character roles. She would appear in Soap as Flo Flotsky on four episodes, five episodes of Barney Miller, and she had a regular spot as the star's mother on Angie which ran from 1979-1980.
Her career continued to flourish throughout the eighties. She had recurring roles on as a gabby hairdresser on Maggie and on Alice as Lavin's mother, and she was a regular on Remington Steele where Roberts played a former IRS agent who becomes the receptionist for the agency. In addition, she could be seen on Fantasy Island, St. Elsewhere, The Love Boat, Mr. Belvedere, and Cagney and Lacey, along with a variety of other shows.
Her appearance on St. Elsewhere gave her an Emmy win for a guest appearance, playing a homeless woman.
In the decade of the nineties, we saw her on Empty Nest, Murder She Wrote, and The King of Queens, among others. However, it was in 1996 when she was offered the role that would change her life. From 1996-2005 she came into our living rooms every week as Marie Barone on Everybody Loves Raymond.
More than 100 actresses were considered for the role. She was nominated for seven Emmys, winning four of them (2001, 2002, 2003, and 2005). Amazingly, Ray Romano as Ray Barone, Peter Boyle as his dad Frank, Patricia Heaton as his wife Debra, Brad Garrett as his brother Robert and Doris Roberts appeared in all 210 episodes of the series.
Ray Romano discussed the appeal Roberts had for viewers: "Here's how good she was: She played the most intrusive, overbearing, nosy woman—always starting fights and whatnot and meddling in our business—and yet, when I asked the fans who their favorite character was, all the time it was her. She was so good at portraying the love that was underneath." In an interview with Entertainment Tonight, Doris described the character of Marie Barone: "Nine glorious years; everything good comes to an end. She doesn't give in, she doesn't give up and she never takes no for an answer."
Doris remained friends with the cast, especially her on-screen husband Frank played by Peter Boyle. After his death, Roberts remembered him: "Peter was so different from the characters he played. He was brilliant, well read, sensitive, a gentleman." Roberts was able to visit him at home and in the hospital and to be with the family after his passing.
From 2006-2014, her work continued. In addition to a recurring role on The Middle, she appeared on Law and Order, Grey's Anatomy, Hot in Cleveland, and Desperate Housewives, along with six other less-known shows. Her role on The Middle gave her a chance to work with her Everybody Loves Raymond costar, Patricia Heaton again.
In addition to her acting career, Roberts was a dedicated activist. She testified before Congress about age discrimination in Hollywood, worked with a variety of animal rights groups, and was chairwoman for the Children with AIDS Foundation. She also had a variety of hobbies including traveling, philanthropy, collecting wine, dancing, singing, and cooking. She claimed her favorite movie was Gone with the Wind.
In 2003, Roberts published her memoir cowritten with Danelle Morton, titled, Are You Hungry Dear? Life, Laughs, and Lasagna. She included many of her favorite recipes in the biography.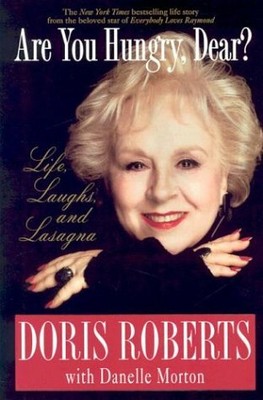 In 2016, Roberts died following a stroke. Romano said "Doris Roberts had an energy and a spirit that amazed me. She never stopped. Whether working professionally or with her many charities, or just nurturing and mentoring a green young comic trying to make it as an actor, she did everything with such a grand love for life and people, and I will miss her dearly."
Patricia Heaton said Doris's television husband Peter Boyle was sick so the cast was able to prepare themselves for his death, but Doris died quickly. Heaton said "Roberts was funny and tough and loved life, living it to the fullest."
One of my favorite quotes by Doris Roberts is that "everybody is a teacher if you listen." Thanks for teaching and entertaining us for more than six decades.