As we continue with the "They Call Me Wilson" blog series, today we take a look at a comedian who was a household name in the seventies but might not be well known today—Flip Wilson.
Flip Wilson was known best for his character of Geraldine and his catch phrase, "Here Comes de Judge." In 1972, Time magazine heralded him "TV's first black superstar."
Born Clerow Wilson Jr. in 1933 in New Jersey, Flip had nine brothers and sisters. His father, a handyman, was unable to find work during the Depression. His mother abandoned the family when Flip was only seven. His father was forced to place most of his children in foster homes. Flip said his happiest childhood memory was when he was in reform school. One of his teachers gave him the first birthday present he ever remembered–a box of Cracker Jacks and a can of shoe polish.
When he was sixteen, Flip lied about his age, joining the US Air Force. His outgoing personality and comedic demeanor made him popular with his barrack mates. It was at this time, he got the nickname "Flip" because his friends said he re-enacted outlandish stories in various dialects. Often he would use mock-Shakespearean phrases and one day a friend replied to one of them, "He flippeth his lid." One of his superiors encouraged him to take some typing courses and do some studying.
After being discharged in 1954, he went to work as a bellhop at the Manor Plaza Hotel in San Francisco. He invented an inebriated character skit which he performed between acts in the nightclub there.
Eventually he wrote new material and began touring nightclubs throughout the US. He became a regular at Harlem's Apollo Theater.
In 1957, Wilson married Lavenia "Peaches" Wilson and they divorced ten years later.
One night when Redd Foxx was a guest on the Tonight Show in 1965, Johnny Carson asked him who he thought was the funniest comedian around, and Redd said "Flip Wilson." Carson booked Flip to appear on the show and so did Ed Sullivan. Again, his warm and friendly personality was mentioned. Richard Pryor once told Wilson that "You're the only performer that I've ever seen who goes on the stage and the audience hopes that you like them."
In 1968 he appeared on the Jerry Lewis Show, and in 1969 you could see him on Love American Style. During this time, he made his first of fourteen appearances on Laugh In.
In 1970, Flip was awarded a Grammy for his album, The Devil Made Me Buy this Dress. It was a great year for him and he received his own variety series also, The Flip Wilson Show on NBC. He would perform comedy sketches and featured many African American celebrities including The Supremes, The Jackson Five, Redd Foxx, and Bill Russell. George Carlin made frequent appearances in front of the camera with him and wrote for the show behind the camera.
Wilson would often show up as Reverend Leroy, the pastor of the "Church of What's Happening Now."
He also took on the persona of sassy Geraldine whose boyfriend was "Killer." She often said "The devil made me do it" and "What you see is what you get."
Unlike many comedians in the seventies, Flip stayed away from politics and social satire. A lot of his stories involved black characters viewing historic events from a different perspective. Some critics praised him for his choice and others said he was "defusing his blackness." Wilson's response to these critics was that "funny is not a color. . . my main point is to be funny; if I can slip a message in there, fine." One contemporary said he was a rare comic in that he told stories that didn't make black people feel angry or make white people feel guilty.
During his four years on the show, Wilson had high ratings; the show received eleven Emmy Award nominations, winning two; he also won the Golden Globe's Best Actor in a Television Series. Wilson ended the show while it still was receiving raving reviews. By 1972, he was making a million dollars a year.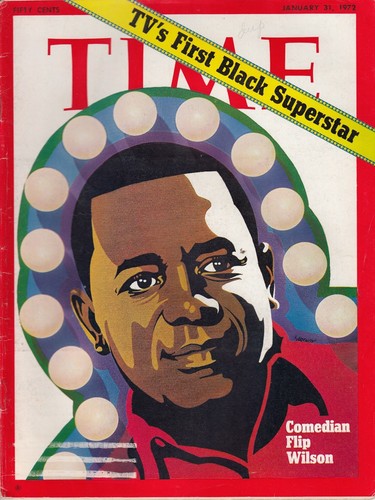 During the run of his show, he accepted a role on one other television show—Here's Lucy in 1971. After his show went off the air, he could be seen in The Six Million Dollar Man in 1976 and Insight in 1978. He also appeared on the big screen in several movies.
Flip took some time off in the seventies to care for his children. Having four children with his common-law wife Blonell Pitman, he received full custody of them in 1979. In that same year, he married Tuanchai "Cookie" MacKenzie and had a fifth child, but they divorced in 1984.*
During the 1980s and 1990s, he continued to be offered roles in television. He was on The Love Boat in 1981, in 227 in 1988 and 1989, in American Playhouse in 1990, and on The Drew Carey Show in 1996 and 1998.
In 1985, he tackled a regular series again, starring in Charlie and Co. with Gladys Knight. Flip portrayed Charlie who worked for the Division of Highways and Gladys his wife Diana, a school teacher. The middle-class family raised their three children—16-year-old Junior, 15-year-old Lauren, and 9-year-old Robert–on the South side of Chicago. The show was cancelled after only 18 episodes.
In 1998, Wilson died from liver cancer.
Dying at 65 cut Wilson's career short, especially because he took off so much time to raise his kids, so they would have a different type of childhood than he did. However, he achieved what he set out to. He was a self-made millionaire, a man who performed the type of comedy he chose, and a good father who raised his children to have a better life than he did. You could not ask for a better definition of success.
*while a couple of sources I read stated that Flip had five children, a reader mentioned that in the book by Kevin Cook, the fifth child Michelle Trice was said to be Blonell Pitman's daughter from a previous relationship. Since Cook wrote the biography, I'm assuming he is correct.