If you love history, you may have been a fan of Downton Abbey. This British historical drama was created by Julian Fellowes and written by Fellowes, Shelagh Stephenson, and Tina Pepler. The show debuted on television in 2010 in England and in the United States in 2011.
As the show begins, Robert Crawley (Hugh Bonneville), Earl of Grantham, has married American heiress Cora Levinson (Elizabeth McGovern). We learn that the Crawley family has had financial difficulties and the marriage is a way to save the family and their property. Robert and Cora have three daughters and no son.
The oldest daughter, Mary (Michelle Dockery), agrees to marry her cousin Patrick. As the show begins, the family learns that both Patrick and his father James have died in the Titanic disaster. The new family heir is now Matthew Crawley (Dan Stevens), a distant cousin who is the son of an upper-middle-class doctor. Eventually, Mary and Matthew become close. Matthew proposes and Mary wants to accept but when her mother becomes pregnant, she delays her answer knowing that a brother would take Matthew's place as family heir. When her mother has a miscarriage, she accepts the proposal, but Matthew rescinds the proposal assuming she is not as interested in him as he hoped. The first season ends with the death of Archduke Franz Ferdinand and the start of WWI. The youngest Crawley daughter Isobel is played by Penelope Wilton.
In season two Matthew and Mary are reunited. They plan to be married during season three. Robert realizes that his entire fortune including his wife's dowry is now gone after he invested it in the Grand Trunk Railway. Robert and Matthew agree to run the estate together, although later Robert will resist any efforts on Matthew's part to make the estate more modern and more profitable. Mary becomes pregnant and returns to her home to give birth and while she is there, she learns that Matthew has been killed in a car crash. Downton Abbey serves as a hospital on the show for soldiers during WWI. In reality, Highclere Castle also served as a convalescent home for soldiers during that war.
Season four is set in 1922-23. Mary is Matthew's sole heir which gives her management of the estate until their son George comes of age. Mary settles back into life at the estate with her son. Two men, Lord Gillingham (Tom Cullen) and Charles Blake (Julian Ovenden), are interested in her but she is still mourning. Mary's sister Edith (Laura Carmichael) begins writing a weekly newspaper column and she falls in love with her editor, Michael, a married man whose wife has been confined to an asylum for some time. Michael travels to Germany where he plans on becoming a citizen and then will be allowed a divorce from his wife which Great Britain prohibits. While there, he is killed by Hitler's men during a riot. Edith, who is pregnant and has kept it secret, goes abroad to give birth and places her child with a family in Switzerland. She later finds her daughter Marigold (Eva Karina Samms) and gives her to a family who lives on the estate.
Season five finds the family in 1924. Charles Blake, still interested in Mary, decides to try to reunite Lord Gillingham with his former fiancée Mabel. In the meantime, Edith inherits Michael's publishing company. Cora learns that Marigold is actually Edith's daughter but the truth is kept from Mary.
Season 6 is set in 1925. Many wealthy families in England are being forced to sell their large estates. Bertie Pelham (Harry Hadden-Paton) proposes to Edith but she does not know if she should accept because of Marigold. Edith eventually accepts and reveals the truth about her daughter to her mother-in-law who supports her because of her honesty. Mary marries Henry Talbot (Matthew Goode).
Of course, there were dozens of subplots based on other characters living nearby and the household staff that added interest to each season.
The series was filmed at Highclere Castle in North Hampshire. Many outdoor scenes were shot in Oxfordshire, including St. Mary's the Virgin Church and the rectory in Bampton.
The opening theme is "Did I Make the Most of Loving You?," composed by John Lunn.
The show was praised by critics. Metacritic gave it a rating of 91/100. The show received a Guinness World Record for the highest critical review acclaim for a TV show. Breaking Bad would overtake that record in its fourth season with a rating of 96/100.
The series was congratulated for a sympathetic portrayal of a wealthy family rather than ridiculing them. Sam Wollaston of The Guardian said that "it's beautifully made—handsome, artfully crafted and acted. [Maggie] Smith, who plays the formidable and disdainful Dowager Countess, has a lovely way of delivering words, always spaced to perfection. This is going to be a treat if you like a lavish period drama on a Sunday evening."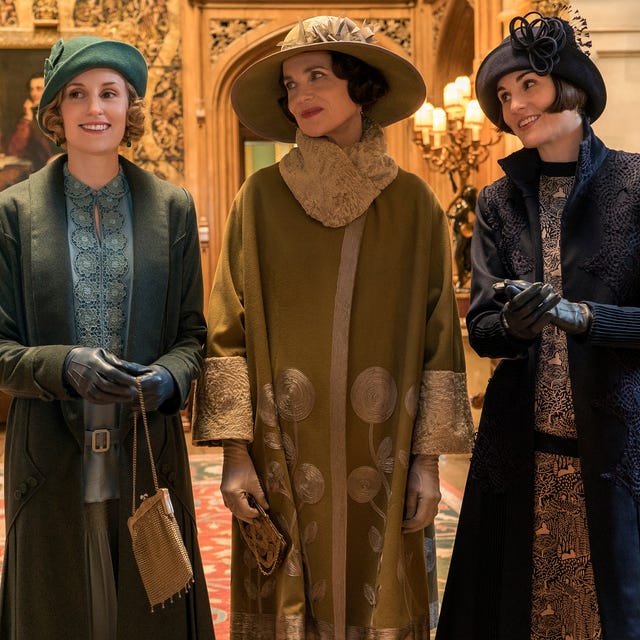 Fellowes said a tremendous amount of research went into making all aspects of the show realistic. Costume designer Anna Robbins said she found many pieces of vintage clothing in her native Scotland and went to Paris annually to buy items. They were then painstakingly restored by Anna and costumer Caroline McCall. The furniture was based on a real-life photo of the house during that era. The show was so popular that an exhibit featuring original props, costumes, jewelry, kitchenware, and other items toured various world cities.
Because of the attention to detail, each episode cost more than $1 million dollars to produce.
Her Majesty Queen Elizabeth II is among the show's fans. She had been a guest at Highclere castle.
The show was nominated for sixteen Emmys in its home country of England. With so many fans and awards, why was the show canceled? Apparently, the characters found their happy endings, the plots were resolved, Maggie Smith had decided not to return to the show, and the show was coming to an era where the estate would not have been able to be maintained. By 1930, it was hard to find domestic staffs for large homes and the estates were too expensive to operate, which was made worse when taxes increased after the war. Fellowes wrote a letter to American fans saying, "We wanted to leave while we would still be missed and not wait until everyone was dying to see the back of us." However, it wasn't truly over because the movie Downton Abbey came out in 2019.
I have to admit I have never seen the show. I have a self-imposed rule that I need to watch at least several episodes of each show before discussing them in my blog. This time I made an exception because I do have plans to watch this one. During the time it was on, I did read about it often and felt like I had a good understanding of the plots and characters. With only 52 episodes total, it can easily be watched within a month. I do love history, and I am looking forward to studying all the cultural history that this show displays. For those of you who have seen it, I would live to hear your thoughts on what you loved or did not enjoy about the series.