This month's blogs are dedicated to Your Show of Shows and the stars who made the show such a success. Last week we learned about the career of Imogene Coca, and today it's Sid Caesar's turn.
Sid Caesar was born in Yonkers, New York, the youngest of three boys. His parents ran a 24-hour luncheonette. Sid grew up waiting on tables which allowed him to study the accents and mannerisms of a wide range of people and ethnicities. His brother David loved comedy sketches, and the brothers worked on comedy routines together.
At the young age of 14, Caesar traveled to the Catskill Mountains, playing saxophone with the Swingtime Six. Occasionally he performed sketches with his collected accents.
After graduating from high school in 1939, Caesar struck out on his own, pursuing a career in music. He landed in Manhattan where he worked as an usher and a doorman at the Capitol Theater. He played sax at the Vacationland Hotel, a resort also in the Catskills. He was able to audit clarinet and saxophone classes at Julliard.
After a few months, he decided to enlist in the US Coast Guard. He was stationed in Brooklyn, and he played in military revues and shows.
In 1942 Caesar met Florence Levy at the Avon Lodge in the Catskills. They were married the following year and had three children. In November of 2009, Greg Crosby wrote about an interview with the Caesars in the Tolucan Times. He quoted Florence, "I thought he would be just a nice boyfriend for the summer. He was cute looking and tall, over six feet . . . I was in my last year at Hunter College; we were still dating when Sid went into the service, the Coast Guard. Luckily, he was stationed in New York, so we were able to continue seeing each other, even though my parents weren't too happy about it. They never thought he would amount to anything, that he'd never have a real career or make any money. But we were married one year after we met, in July of 1943." They would remain married until her death in 2010.
After joining the musicians' union, Sid played with several well-known bands, including Benny Goodman.
While in the Coast Guard, he was able to collaborate with Vernon Duke, the composer of "Autumn in New York," "April in Paris," and "Taking a Chance on Love." He and Duke put together a show called "Tars and Spars." Max Liebman, future director of Your Show of Shows, was also part of the show, although not part of the military. Liebman asked Sid to do a few stand-up bits between songs and when the show toured nationally, Sid continued these routines.
Caesar left the service in 1945. He and his wife moved to Hollywood. In 1946, Sid was able to reprise his role in the film version Tars and Spars with Columbia Pictures.
Eventually, he returned to New York and accepted the offer of opening act for Joe E. Lewis at the Copacabana. He also received a contract with the William Morris Agency. He was able to perform in a Broadway show, "Make Mine Manhattan."
In the fall of 1948, Sid made an appearance on Milton Berle's popular show, Texaco Star Theater. The following year, he and Liebman met with Pat Weaver, VP of television at NBC. The meeting resulted in the Admiral Broadway Revue with Imogene Coca. It was very successful but Admiral could not keep up with the demand for new television sets so it pulled the sponsorship and the show was canceled after 26 weeks.
In 1950, Weaver, Liebman, and Company created Your Show of Shows. It started life as a second half of the Saturday Night Review but became its own 90-minute program in 1951. In 1954, a 160 episodes later, it ended so Coca and Caesar could both have their own shows.
Sid's show was called Caesar's Hour, a one-hour show with Howard Morris and Carl Reiner from Your Show of Shows as well as Bea Arthur and Nanette Fabray. The show was not a success. In 1958, Sid tried again with Sid Caesar Invites You.
In the sixties, Caesar took stage roles, as well as big and small-screen parts. He had several specials on television, starred on Broadway in "Little Me," which got him a Tony award nomination. He also was part of the ensemble of It's a Mad, Mad, Mad, Mad World, a huge success that earned six Academy award nominations.
Sid appeared in a few television shows during his career but only a handful. A couple of those include That Girl, Love American Style, Laugh In, Vega$, and The Love Boat.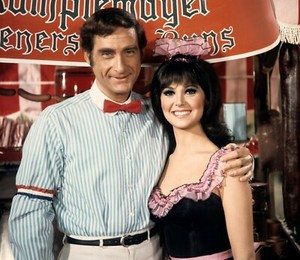 Caesar didn't write his own material. He often performed long sketches, 10-15 minutes. He relied on body language, accents, and facial expressions. Larry Gelbart called him a "pure TV comedian." Fabray said he always stayed in character, "he was so totally in the scene he never lost it." He was able to pantomime many different types of characters: a tire, a gumball machine, a lion, a punching bag, a telephone, an infant, a piano, even a bottle of seltzer. Neil Simon said that "Sid would make it [a sketch] ten times funnier than what we wrote."
Many of his favorite comic sketches were parodies of films including gangster, western, and spy movies. Gerald Nachman wrote Seriously Funny: The Rebel Comedians of the 1950s and 1960s. He said, "the Caesar shows were the crème de la crème of fifties television, studded with satire and their sketches sharper, edgier, more sophisticated than the other variety shows." Historian Susan Murphy agreed, describing Sid as "best known as one of the most intelligent and provocative innovators of television comedy."
Unfortunately, like many comedians, Caesar had some demons of his own. His stardom ended quickly. He had no interest in the movies. He was using pills and alcohol to help relieve the pressures of headlining and producing a weekly show. In 1977, Caesar blacked out during a stage performance of "The Last of the Red-Hot Lovers" in Canada and gave up alcohol immediately. He discussed his substance abuse to alcohol and sleeping pills in his two autobiographies, Where Have I Been? And Caesar's Hours. He said at his worst, he "had been downing eight Tuinals and a quart of Scotch a day."
Later in his career, Sid came back to the movies. He was in Silent Movie and History of the World, Part I with Mel Brooks; Airport 1975, and Grease and Grease 2, playing Coach Calhoun.
In 1983, Caesar hosted Saturday Night Live and received a standing ovation. In 1996, The Writers Guild of America, West gathered Sid and his writers from Your Show of Shows and Caesar's Hour for a two-hour panel discussion which was broadcast on PBS.
Sid passed away in 2014 after an illness. He left behind an amazing career and a legacy of actors and comedians he inspired. I'll let his friends have the last word since they knew him so well. Carl Reiner commented at the time that "he was the ultimate, he was the very best sketch artist and comedian that ever existed." Mel Brooks agreed and said "Sid Caesar was a giant, maybe the best comedian who ever practiced the trade. And I was privileged to be one of his writers and one of his friends."
We were all privileged to watch a master at work. Thank you for the many memorable moments and teaching us what funny honestly looks like.