As we begin 2022, we are getting to know some of our favorite actresses from the golden age of television. Last week we learned more about Aunt Bee and today we look at another one of our favorite aunts: Aunt Clara on Bewitched played by the lovable Marion Lorne.
Like Frances Bavier, Lorne also had successful careers in Broadway, films, and television. She was born in 1883 in Pennsylvania, the daughter of a doctor. And also, like Bavier, Lorne attended the American Academy of Dramatic Arts in New York City.
Although Lorne had her first Broadway debut in 1905, she also had a successful stage career in London. She and her husband Walter C. Hackett had their own theater, the Whitehall. He wrote the plays and she acted in them. One source I read said none of their plays lasted less than 125 nights. She and Walter married in 1911 and were together until his death in 1944. Like Bavier, she also had no children.
Shortly before her husband died, the couple returned to the United States, but it wasn't until 1951 that she dipped her toe into the silver screen pool. She appeared in Strangers on a Train, the Alfred Hitchcock mystery. She would appear in several other big-screen films including The Graduate.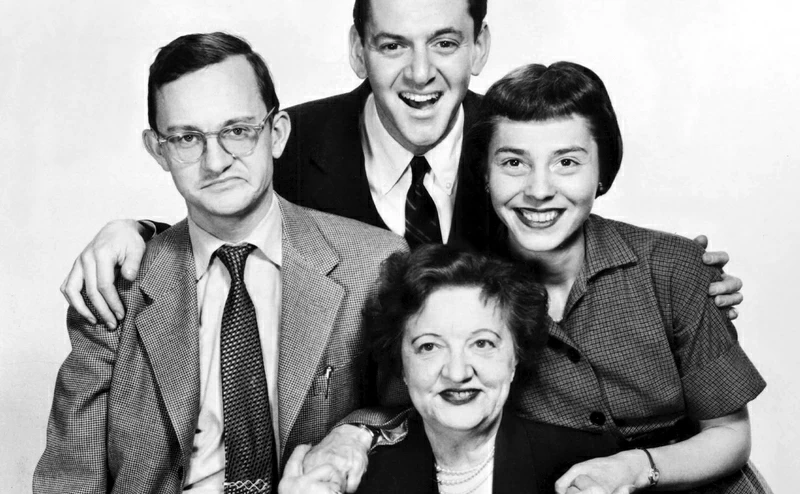 The following year she was offered a role as Mrs. Gurney the English teacher on Mister Peepers. She would continue in the role until the show went off the air in 1955. In 1957 she appeared with Joan Caulfield in the sitcom Sally. Lorne played a widow who owns a department store. Before and after these two shows she appeared on several series including Philco Theater, Suspicion, and The DuPont Show of the Month.
In 1964, she took on the role Aunt Clara, Samantha's aunt on Bewitched. Clara was a witch who was losing her powers due to old age, and her spells often resulted in very different outcomes than she planned. Clara was known for her doorknob collection on the show and, in real life, Lorne also had a collection of doorknobs. She appeared in 27 episodes of the show from 1964-1968. Lorne died of a heart attack in 1968 at age 84.
Lorne was nominated for an Emmy for her role as Clara ten days before she died. When she won, Elizabeth Montgomery accepted the award on her behalf. Lorne had also been nominated for her Bewitched role in 1967 (beat out by Frances Bavier for The Andy Griffith Show). In addition, she was nominated for an Emmy in 1954 and 1955 for Mister Peepers (won by Vivian Vance for I Love Lucy and Audrey Meadows for The Honeymooners) and in 1958 for Sally (won by Ann B Davis for Love That Bob).
From 1958-1964 she also made 147 appearances on The Garry Moore Show. That was an amazing cast including Carol Burnett. Carol said that it was a happy, happy show. When she got her own variety show, she took everything she learned and ran her own show the same way.
I think Marion was born to play Aunt Clara. She and Paul Lynde as Uncle Arthur were two of my very favorite characters on almost any 1960s sitcom. When she discussed her career, she said that "In my long, long career, I have played everything, but comedy has always been my favorite." Fans may have loved her delightful but zany roles, but that does not take anything away from her acting skills. Hitchcock said it was hard to compare Marion to an American actress in her younger days. He said "Miss Lorne might have been compared during her London days to Tallulah Bankhead, Helen Hayes, Katharine Cornell . . . all of them put together—and more. She was more than an actress in England; she was an institution."
Her Bewitched costars also adored her. Bill Asher, Montgomery's husband and show producer, said "I try to arrange it so we always have a script for her to do. She's a big, big part of our show." Montgomery complimented her saying, "The contribution she makes to the show is incredible. When the character of Aunt Clara came into being, she was the only one we even thought of." The director, Paul Davis, succinctly said, "I love her." When she passed away, her character was never played by anyone else. That's high praise considering Gladys Kravitz, Louise Tate, and Darrin all had several people play their role during the show's run.
Considering the fact that she spent 63 years in show business and only 17 of them were on television, she certainly made her mark. She was only in six television shows ever but in three of them she was a regular cast member, and she was nominated for an Emmy for each one of them. That is a pretty impressive record. So, did Lorne have any regrets? Just one. She said "My favorite programs are westerns, and I have never been in one." I like to think she has starred in a few westerns during her time in Heaven. I wish I was able to see one of her stage performances from London or the skits from Garry Moore's show. I had a lot of fun learning a little more about Marion Lorne, one of my all-time favorite actresses from the classical age of television.