We are in the midst of our blog series about unique television writers. If I mention the name Mel Tormé to you, you probably think exceptional musician, composer, and singer. You might specifically mention "The Christmas Song" which he composed the music and cowrote the lyrics for. (His cowriter was Bob Wells.)
If I say think writing, you might be able to recall that he wrote several musical biographies including Traps- The Drum Wonder: The Life of Buddy Rich, The Other Side of the Rainbow: Behind the Scenes on the Judy Garland Television Series, or My Singing Teachers. You might have even read his autobiography It Wasn't All Velvet or Wynner, a novel he wrote in 1978.
However, I'm guessing most of you don't realize that he also tried his hand at writing scripts for television.
Melvin Tormé was born in Chicago in 1925. He was a child prodigy and first performed professionally at age 4 with the Coon Sanders Orchestra, singing "You're Driving Me Crazy," at a local restaurant.
He played drums in the drum and bugle corps of his grade school, Shakespeare Elementary. From 1933-1941 he had roles in several radio programs including "The Romance of Helen Trent" and "Jack Armstrong, All American Boy." He wrote his first song at age 13. At age 16, his song, "Lament to Love" was a hit for Harry James.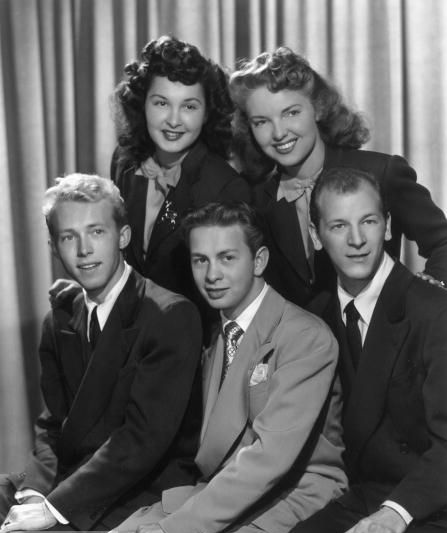 Tormé graduated from Hyde Park High School. Shortly after, he was a singer and drummer with a band led by Chico Marx from 1942-1943. In 1944, he formed Mel Tormé and His Mel-Tones.
Tormé took his stint in the Army, and when he was discharged in 1946, he returned to the entertainment business. He was nicknamed "The Velvet Frog" by DJ Fred Robbins when he sang at the Copacabana. He always hated the nickname.
During the fifties, he had a radio program, "Mel Tormé Time," and he recorded a variety of albums. He primarily performed jazz but he loved classical music as well, preferring Delius and Grainger. He wrote more than 250 songs. In the sixties, he strayed into pop music.
Mel had his first television appearance as an actor in 1960 on Dan Raven. He showed up on a few different series including The Lucy Show. In the 1980s, he made nine appearances on Night Court and found a new generation of fans.
During his career, he tried marriage four times, but the first three ended in divorce. In 1996 he suffered from a stroke that ended his musical career. Three years later, he passed away.
No doubt, he had a full and successful career. He had a multitude of skills he experimented with during his professional life. I would like to spend some time looking at part of his career that is not well known. He did help with the writing for a brief time when The Judy Garland Show was on the air. In the late sixties he continued writing for the small screen.
In 1967, Mel wrote his first television script. His first successful episode was for the 1967 show Run for Your Life. It's not a well-remembered show, but it aired from 1965-1968. It was about a successful lawyer Paul Bryan (Ben Gazzara) who learns he is terminally ill with two years to live. He decides to accomplish everything on his bucket list, and each week he talks about the people he meets and the places he visits.
Mel not only wrote the script for "The Frozen Image," but he starred in the episode as well. The premise is that a married Las Vegas singer (Diana Burke) who doesn't want to get old, hires Paul as her manager.
He must have enjoyed it because the next year, he wrote a script for The Virginian called "The Handy Man." The long-running show was on the air from 1962-1971 and was set in Wyoming in the late 1800s.
In this episode, a legal fight over a strip of land between the Shiloh and Bowden ranch turns nasty. The Bowdens think Shiloh has hired a gunfighter who turns out to be a handyman.
In 1974, Tormé scripted another story, this time for Mannix. From 1967-1975, Mannix solved a variety of cases. Originally working for a company, he starts his own business with secretary/friend Peggy Fair, whose husband, a policeman, had been killed. They also work with a police department contact, Tobias. Mel's story, "Portrait in Blues," features a couple of musicians, one of whom is almost electrocuted while performing.
The last television project Mel worked on as a writer was a made-for-television movie called The Christmas Songs in 1979. With cowriter Thomas V. Grasso, Mel penned the script and starred in the movie with Richard Basehart, Billy Davis, Jr., Jo Ann Greer, Les Brown and His Band of Renown, Rich Little, Marilyn McCoo, Maureen McGovern, Sons of the Pioneers, Roy Rogers, and George Shearing. I could not find much about this movie, so if anyone remembers watching it or knows anything more about it, please let me know.
With all the success that he had in the music industry, I was amazed to learn Mel wrote for television. I stumbled across it by accident when I was researching Mannix and decided to learn a little more about his writing career. I could not find any other information about his writing career. I did reach out to his son Steve March-Tormé . He said that he had not realized that his father wrote television scripts but said, "I'm not surprised. He tried his hand at a lot of areas of the business and was almost always very successful at them. Very bright guy." Steve's stepfather, Hal March, was another celebrated television writer and star. (For more about Steve March-Tormé , see his website, stevemarchtorme.com.)
It's been a lot of fun to learn more about Mel Tormé's television writing career. As someone who only knew him for his musical skills, it was fun to see another side of the performer. As someone who has always thought it would be fun to write for a sitcom, kudos to him for trying something new and succeeding. Hopefully, he is an inspiration to some of us who think we have to settle for the space we are in now to reach out and try something entirely different–and to remember that the success is in the trying.