We are winding up the blog series, "One-Named Detectives," and I think we saved the most interesting private eye for today: Columbo.
Columbo was on the air from 1971-2003, the longest of the five detectives we looked at in this series (Cannon, Kojak, Mannix, Matlock, and Columbo), but oddly had the fewest episodes with 68 (Cannon had 120, Kojak had 117, Matlock with 181, and Mannix had the most with 194).
Richard Levinson and William Link created Columbo (they also were the force behind Mannix). Levinson and Link met in junior high and they were a writing team until 1987 when Levinson passed away. This show was a bit different; it actually had two pilot episodes in 1968 and 1971. It originally aired from 1971-1978 in The NBC Mystery Movie series. It alternated with McMillan and Wife, McCloud and Hec Ramsey. ABC revived the show from 1989-2003, but it was not a weekly show then either. Falk didn't want a weekly show, so the series was scheduled for one Wednesday a month. For season two, the series was moved to Sunday nights where it continued until 1978.
In the original concept for the show, Columbo was described as smooth-talking and cultured. The first choice for an actor to play the role was Bing Crosby who declined. When Falk showed up for his audition, he came in wrinkled clothing, aimlessly chattered, and seemed a bit scatter brained so the producers changed the character.
The show had some interesting directors. One of the directors on the show was Steven Spielberg who directed "Murder by the Book." Falk himself directed the final episode of season one, "Blueprint for Murder." Nicholas Colasanto who played Coach on Cheers directed two of the shows, "Etude in Black" and "Swan Song." Patrick McGoohan directed five episodes (including three he guest starred in), as well as producing and writing two others. Falk's friend actor Ben Gazzara directed "A Friend in Deed" and "Troubled Waters."
On Columbo, we see the crime being committed long before we meet Lt Columbo (Peter Falk), so we know who committed the crime from the beginning. The fun of the episode is in watching Columbo investigate the crime and how he solves it. Columbo never introduces himself with his first name and no other character in the show uses it either. In season four, Colonel Rumford asks Columbo if he has a first name, and his response is "I do, but usually only my wife uses it." Apparently, in one episode, a badge is scanned and lists his name as Frank, but William Link stated that Columbo was written without a first name.
Columbo was a very disheveled detective who always showed up in a rumpled raincoat, smoking a cigar and appearing as if he was not quite all there. Falk used his own wardrobe for the character. The infamous raincoat was one he bought for $15 in 1967 when he got caught in a New York City rainstorm.
However, behind the façade of an inept policeman was a brilliant mind. He asked a lot of seemingly non-essential questions and paid attention to every detail. After interviewing a suspect, he always said, "Just one more thing." Falk improvised during filming. He might ask for a pencil, search for something or throw in an unscripted line and did it to create a genuine confusion on the part of the other actor so it appeared more realistic.
This was definitely a one-man show, but there were a few characters who had recurring roles: Mike Lally played a bartender in 25 episodes, John Finnegan was Barney on 13 shows, and Bruce Kirby as Sgt George Kramer was seen nine times.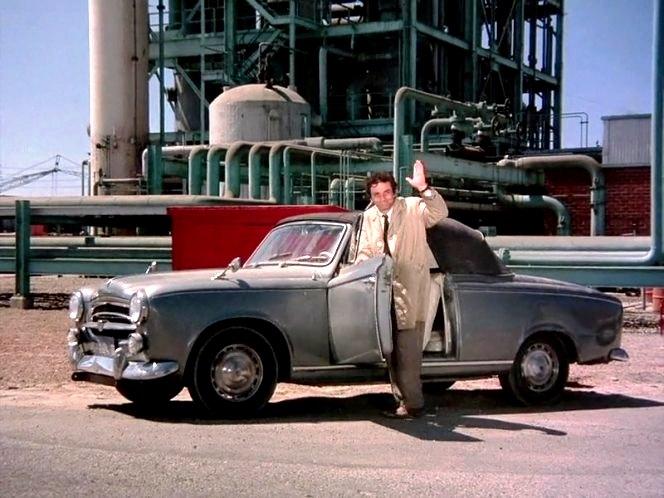 Columbo's car is a 1959 Peugeot 403. Apparently, only 504 convertibles with two doors were made that year. When NBC cancelled the series, the car was sold. ABC had to locate a replacement when they picked the show up later. You can tell the difference because the license plate from NBC seasons was 044-APD and the plate from ABC shows was 448-DBZ.
Most of the suspects on the show were clever, wealthy people who think they have covered their tracks and have a solid alibi.
For only 68 episodes, there were a lot of famous guest stars on the show. Some stars even portrayed two different criminals including Jack Cassidy, Robert Culp, George Hamilton, Patrick McGoohan, and William Shatner. Other guest stars showing up were Anne Baxter, Johnny Cash, Faye Dunaway, Jose Ferrer, Ruth Gordon, Lee Grant, Janet Leigh, Vera Miles, Ray Milland, Leonard Nimoy, Donald Pleasence, Dick Van Dyke, and Robert Vaughn.
There was a variety of music written for each episode of the show. The Mystery Movie Theme was written by Henry Mancini and was used for the NBC shows. Both Quincy Jones and Mike Post also wrote versions of The Mystery Movie theme. One song uniquely belonging to Columbo was "This Old Man." Falk can be heard humming or whistling it in various episodes after it was introduced in a 1973 show.
The show received thirteen Emmys during its run. Falk won the Emmy the first season and again in 1976. He was nominated in 1973, 1977 and 1978 but lost to Richard Thomas, James Garner and Ed Asner respectively. The series was nominated in 1972, 1973, 1976, 1977, and 1978 (winners were Elizabeth R Masterpiece Theater; The Waltons; Police Story; Upstairs, Downstairs; and The Rockford Files).
The show was very popular and was broadcast in 44 countries. There is a statue of Columbo in his coat in Budapest, Hungary on Falk Miksa Street. The story behind it is that according to then-mayor Antal Rogan, Falk is a relative of Falk Miksa who was a Hungarian writer and politician, but I could not verify if that was true or not. What is true is that it was put up in 2014 at a cost of $63,000.
When he is questioning witnesses, Columbo often throws in random references to his wife and or something the couple liked to do, but we never see her in the series. However, later a show was created, Mrs. Columbo starring Kate Mulgrew. Falk's real-life wife Shera Danese was cast in six of the Columbo episodes, always appearing as a different character.
A group of novels was adapted from the Columbo tv series by MCA written by Alfred Lawrence, Henry Clements, and Lee Hays.
Columbo has been a popular show in syndication and can currently be seen on ME TV Sunday nights. The shows run from 70-98 minutes which probably makes syndication interesting. The entire set is available on DVD for about $50.
Unfortunately, Peter Falk was diagnosed with dementia in 2007, and by 2009 he could not recognize photos of himself and did not remember playing Columbo. He passed away in 2011.
It's been fun looking at these five detectives for this series. When I put this together, I chose five private eyes I thought would make good articles. What I didn't realize, is that four of them were all from the same era. In fact, in 1973, Columbo was on Sunday nights followed by Mannix and both were in the top twenty and on Wednesday nights Cannon was on followed by Kojak and both were in the top ten. The following year, Sunday nights featured Kojak before Mannix which was still in the top 20 and they were on at the same time as Columbo. Cannon eventually moved to Sunday night but also spent part of the year on Wednesdays where it was also in the top twenty. Matlock debuted in the late eighties, after the other shows except Columbo had all gone off the air.
Cannon, Kojak, Mannix, Matlock, and Columbo—five very different types of detectives who had one thing in common: good writing. Check them all out and I'd love to hear which one is your favorite.