We are three-quarters through our new blog series, "One-Named Detectives," and today we are looking at a show that began in 1967 and aired until 1975, producing 194 episodes.
Created by Richard Levinson and William Link and produced by Bruce Geller, Mannix was one of the most violent television shows during the sixties. Private investigator Joe Mannix (Mike Connors) began working at Intertect which relied on computers and a large network of operatives to help them solve crimes.
CBS was planning on cancelling the show after its debut year, but somehow Lucille Ball convinced them to renew it for another season. (Desilu produced the show.) In season two, Mannix decides to leave and open his own agency. He prefers to solve crimes the old-fashioned way, with his own brain, or as he described it, "A private eye—in the classical tradition." Peggy Fair (Gail Fisher), a widow whose policeman husband was killed in action, became his secretary. Joe was also a father figure for her son Toby. The role of Peggy was planned for Nichelle Nichols but she had to decline due to receiving her role on Star Trek.
The cast was rounded out by Lt Art Malcolm (Ward Wood), Sergeant Charley (Ron Nyman), and Lew Wickersham (Joseph Campanella), and police contact Tobias (Robert Reed). Every episode was filled with violent fistfights, car chases, and shoot-outs. During the course of the series, Mannix was knocked unconscious 55 times, drugged about 38 times, and shot 17 times. Connors actually broke his collar bone filming the pilot. The character of Mannix survived many of these situations because he was an expert fighter. He was said to have been a POW during the Korean war. Mannix was also a race car driver and a pilot. He sailed, skied, golfed and was an accomplished pool player. He was said to have grown up in Summer Grove where he excelled in football and basketball.
Like Cannon, Joe Mannix relied on a car phone during his investigations. Many viewers felt the scripts were well written and the endings were not easy to predict. The plots relied more on crime-solving techniques but several tackled relevant social topics including compulsive gambling, racism, returning Vietnam War veterans issue, and professionals with physical disabilities such as deafness or blindness working to solve crimes.
The scripts were written by some of the best writers in the business. There were more than 85 writers credited with stories, one of them being Mel Tormé, yep that Mel Tormé.  Other writers were John Meredyth Lucas who wrote for fifty shows including Harry O, Kojak, Ben Casey, and Star Trek; Stephen Kandel who wrote for many shows including Hart to Hart, MacGyver, Hawaii Five-0, and Cannon; and Donn Mullally who also wrote for fifty shows including Ironside, The Virginian, Bonanza, and The Wild Wild West.
There were a lot of creative shows using visual effects in the sixties and Mannix was one of them. It employed many cutting-edge gimmicks to appeal to fans. Technical filming skills included zooms (moving in for a close-up or out to show something the viewer did not realize was in the scene), rack focuses (a rack focus is the filmmaking technique of changing the focus of the lens during a continuous shot. When a shot "racks," it moves the focal plane from one object in the frame to another), lens flares (a lens flares adds a sense of drama and a touch of realism to a shot), Dutch angles (which produce a viewpoint of tilting one's head to the side), both low and high angles, and cameras that could move 360 degrees during filming.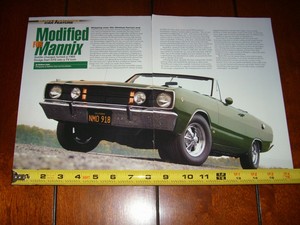 For you car afficiandos, Mannix had a lot of cool automobiles during the series. For season one, he primarily drove a 1967 Oldsmobile Toronado customized by George Barris who built the Batmobile. For season two, Barris worked on a 1968 Dodge Dart for him.
Season three found him driving another Barris car, a 1969 Dodge Dart. Seasons four through six he drove Plymouth Cudas (a 1970 for four, a 1971 for five, and a 1973 for six). For season seven, he was given a 1974 Dodge Challenger and for the final season, he drove a Chevrolet Camaro LT.
An interesting story about his season two car is that it was sold to a secretary at Paramount Studios and then disappeared for a few decades when it was located near a ranger station in California. It was restored to the Barris condition it had on the show. It was featured in Muscle Machines in December of 2009 and on the show Drive on Discovery HD Theater in 2010. The car is currently owned by C. Van Tune, former editor of Motor Trend magazine.
In addition to special cars in the shows, a lot of celebrities guest starred including Hugh Beaumont, Robert Conrad, Yvonne Craig, Sally Kellerman, Burgess Meredith, Lee Merriwether, Vera Miles, and Diana Muldaur. Some of the more unusual guest spots were filled by musicians Neil Diamond, Buffalo Springfield, and Lou Rawls; comedians Rich Little and Milton Berle; and journalists Art Buchwald, and Rona Barrett.
The theme song was composed by Lalo Schifrin. Titled, "Mannix," it was released as a single in 1969 with "End Game" on the B side.
Connors was nominated for an Emmy four times, Fisher was nominated for four as well, and the series was nominated twice. In 1970, Connors was beat by Robert Young in Marcus Welby, in 1971 Hal Holbrook won for The Bold Ones, Peter Falk won for Columbo in 1972, and in 1973 Richard Thomas won for The Waltons. Fisher lost to Margaret Leighton for Hallmark Hall of Fame in 1971, Ellen Corby for The Waltons in 1973, and Jenny Agutter in The Snow Goose Hallmark Hall of Fame in 1972. The show lost out as best drama to Elizabeth R Masterpiece Theater in 1972 and The Waltons in 1973.
I do remember watching and enjoying the show when I was in grade school.  I'm guessing I watched it because it was something my parents watched. I think the show has held up well and, considering it was in the midst of the sixties, is not too dated. It would definitely be fun to check out a season or two of the show to see if you can figure out just "who done it."