This month we have a new series, "One-Name Detectives." Today we are looking at a show that was on for five years in the early seventies: Cannon.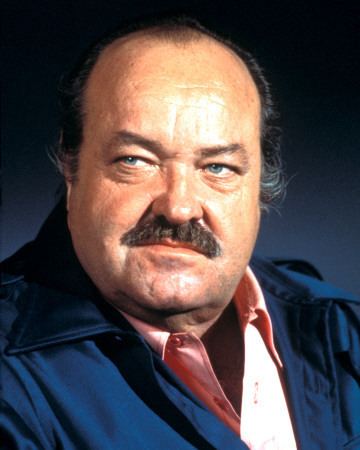 Cannon was produced by Quinn Martin and aired from 1971-1976 on CBS. Edward Hume developed the show and was also known for his creation of Barnaby Jones, The Streets of San Francisco, and Toma. Unlike most detective shows, Frank Cannon (William Conrad) was the only member of the cast. There were a few recurring characters including policeman Jerry Warton (Martin Sheen), Lt Paul Tarcher (Charles Bateman), and Officer Bill Murray (Arthur Adams).
Cannon is a detective in Los Angeles. His backstory is that he was a veteran of the Korean War and a former policeman for the Los Angeles Police Department. He quit the force after his wife and young son were killed in a bomb attack meant for him. He was a man of many talents. Not only was he street-smart, but he had at least one other college degree, knew several languages and studied science, art, and history.
Cannon was overweight and often made jokes about his size, but when he couldn't get out of a bad situation with his quick wit, he could hold his own fighting the bad guys. Cannon was also a gourmet cook and wine expert and often entertained friends.
Most of the plots involved Cannon solving crimes for private clients, insurance companies or former police colleagues. Cannon was known for his mobile phone in his Lincoln Continental. Car phones were not very common then, but I do remember an episode of That Girl from the early seventies that also featured a Motorola car phone. Cannon usually asked an operator to dial his call while he was driving.
The show debuted in a two-hour movie. The series was picked up and placed on the Tuesday night schedule, following Hawaii Five-0. Season two found the show on Wednesday nights at 10 ET and then at 9 ET for season three where it remained. The first three seasons the show was in the top 20 but in season five, it came in at 39 and was canceled.
Season one featured a short scene before the opening credits giving a preview of the show. For the remaining seasons, the preview was not included.
A lot of famous people stopped by Cannon's office during this five-year people. Guest stars included Willie Aames, Whitney Blake, Johnny Cash, Micky Dolenz, Shelley Duvall, Mike Farrell, Joan Fontaine, Dabbs Greer, Mark Hamill, Kim Hunter, David Janssen, Tina Louise, Robert Mandan, Vera Miles, Donna Mills, Leslie Nielsen, Nick Nolte, Stefanie Powers, Denver Pyle, Wayne Rogers, Roy Scheider, Peter Strauss, Vic Tayback, Jessica Walter, Cindy Williams, and William Windom.
The show received three Emmy nominations. The show was nominated in 1973 and Conrad was nominated in 1973 and 1974 (losing to Richard Thomas for The Waltons in 1973 and Telly Savala for Kojak in 1974).
Nine novels were published based on the show in the 1970s, the first being Murder by Gemini by Richard Gallagher and the last one being Shoot-Out! by Douglas Enefe.
The show is out on DVD and very reasonable. The entire five-season set can be bought for $32 on amazon. Definitely worth the time to watch a season or two on a week-end.