We are taking a look at some of the classic kids' shows on PBS (or Purposefully Brilliant Programming as I am referring to it) in March. It seemed fitting to start with one of the shows that many of us grew up with: Mister Rogers.
Fred Rogers was born in Pennsylvania in 1928. Fred's youth was far from ideal. He was shy and overweight, which he was bullied about. He also spent much of his time alone because he had asthma which kept him out of school a lot of the time. He turned to his stuffed animals to create a more friendly world for himself.
In high school, he blossomed. He was president of the student council, editor of the yearbook, in the National Honor Society, and made a variety of friends including several football players.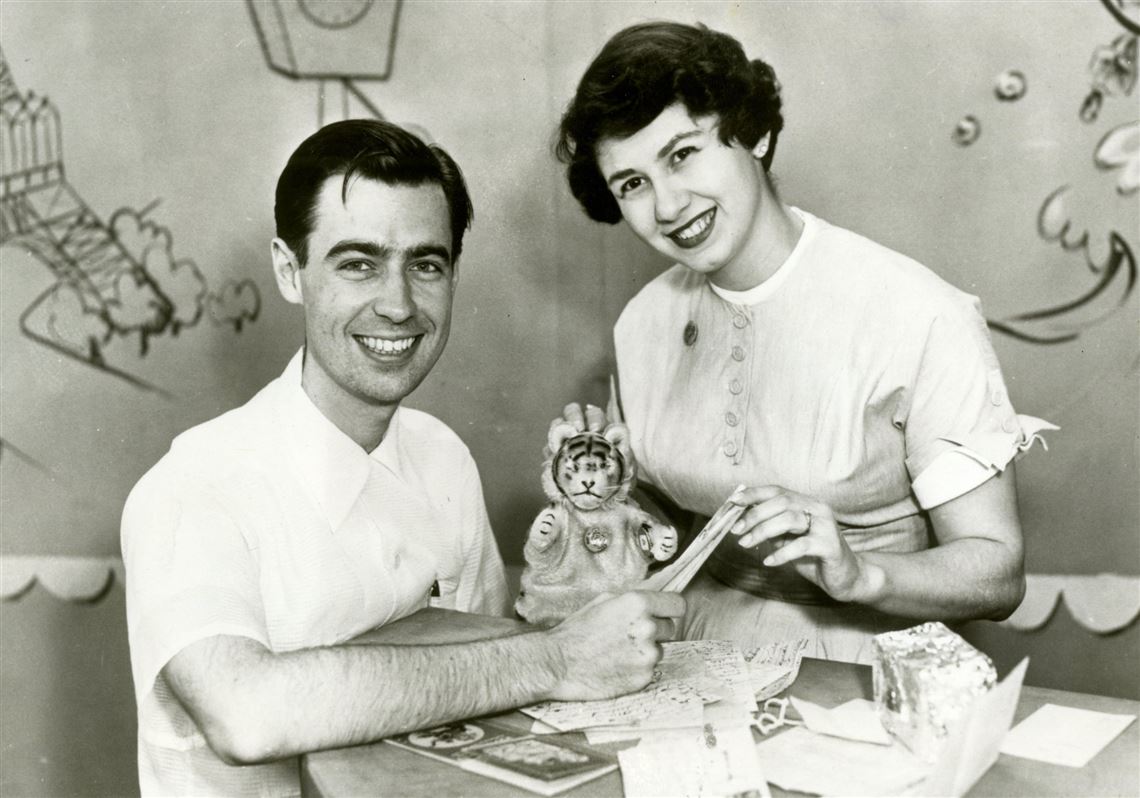 He enrolled in Rollins College and graduated in 1951 with a music degree. He started his television career in New York but returned to Pittsburgh in 1953 to be the program developer for NET, now PBS, at WQED. While pursuing his television career, he also attended Pittsburgh Theological Seminary, graduating with a degree in divinity in 1962. He became a Presbyterian minister the following year and also attended the University of Pittsburgh graduate school for child development.
He met his wife Joanne in college, and they were married in 1952 and made a great team for life, raising two boys.
One of the shows he worked on at WQED was Children's Corner. Many of the puppets who showed up later on his show were created for this series. The Canadian Broadcasting Corporation in Toronto offered Rogers his own show, a 15-minute black and white children's program. He moved to Canada and appeared on the show from 1963-1967. When the show was cancelled, he acquired the rights to the show.
In 1968 he returned to Pittsburgh, and the show became part of WQED's schedule. The program focused on children's emotional and physical concerns and covered a lot of important topics including dealing with death, sibling rivalry, the effects of divorce, prejudice, and other life issues.
In 1970, NET became PBS, and the show was retitled Mister Rogers' Neighborhood and broadcast nationally. Fred began each episode by changing into one of his iconic cardigans while singing the ever-popular theme song, "Won't You Be My Neighbor?" He then did a small monologue about the day's topic.  His website, misterrogers.org explains this daily ritual: "That seemingly simple routine is part of a larger message and an invitation. The message: I care about you, no matter who you are and no matter what you can or cannot do. The invitation: Let's spend this time together. We'll build a relationship and talk and imagine and sing about things that matter to you."
Fred produced the show, wrote the scripts, hosted the show, and composed the music. Between 1968 and 2001, more than 1000 episodes were created.
On the website misterrogers.org, we are introduced to the characters who live in the neighborhood of Make Believe.
Daniel the Striped Tiger: This shy, gentle tiger is equal parts timid and brave.
King Friday XIII: The rule of the Neighborhood of Make Believe can be demanding, but he cares deeply for his subjects.
Lady Elaine Fairchilde: She's mischievous and a bit of a troublemaker, but she's also brave, sassy, and ready to speak up.
Henrietta the Pussycat: A lovable pussycat all dressed up in fancy dresses and hats.
X the Owl: A fun-loving, easygoing relaxed sort of owl who loves to learn.
Fred described his puppets by saying, "The authority of the king, the shyness of Daniel Tiger, the adolescence of X the Owl, the mischievousness of Lady Elaine Fairchilde, we all have lots of facets to who we are, and it's fun to be able to express them."
I found a fitting story about why this show was so exceptional. Robert Bianco stopped by the set to do an article for the Pittsburgh Post Gazette. He wrote: "Years ago, I spent a day on the set of Mister Rogers' Neighborhood. The scene they were shooting was simple. Fred Rogers was supposed to sit at a table, drink a glass of juice and then move on to another part of the set. When he finished shooting the scene, however, Rogers realized he couldn't finish the juice in the time allotted. So, he asked for another, non-see-through glass, so children wouldn't see him leaving a half-filled glass on the table.
The director objected, saying kids would never notice, and it wouldn't make any difference if they did. But Rogers said wasting juice sent the wrong message to his audience, and then simply repeated his request, patiently but firmly, and in a tone that made it clear he would not change his mind. He got his glass.
There's a lot of Fred Rogers boiled down in that story: his attention to detail, his dedication to the work, his sense of responsibility for its effects, his moral authority, his willingness to exercise power, and his skill at doing so graciously."
Mister Rogers gave children the possibilities of who they could become. He opened up new worlds they might not have encountered. He wanted to inspire kids to think big.
Two years after ending the show, Fred died from stomach cancer in 2003.
Rogers became known for his optimistic and caring attitude. He was one of the most-requested commencement speakers in the country, visiting more than 150 schools. Most of his lectures were about television programming, education, his view of the world, how to make the world a better place, and how children were affected by issues, as well as his continual quest for more knowledge.
Fred received more than 40 major awards, including a Peabody in 1992, a Lifetime Achievement Emmy in 1997, induction into the Television Hall of Fame in 1999, the Presidential Medal of Freedom in 2002, and was featured on the Forever stamp in 2018.
Many museums have featured a Fred Rogers temporary or permanent exhibit. The Smithsonian Institution contains a collection of Rogers items from the show, including one of his red sweaters.
A 7000-pound, 11-foot high, Mister Rogers oversees the North Shore Neighborhood in Pittsburgh.
In 2019, Fred's life moved to the big screen with the debut of A Beautiful Day in the Neighborhood, with Tom Hanks portraying Rogers.
Tom captured the essence of Fred perfectly, but he knew he was under a lot of pressure to do so. There were thousands of kids who knew Fred intimately because they spent time with him every afternoon. Tom told the following story:
"I was on an elevator and a man got on and said, 'Mr. Hanks, how is filming going? Are you enjoying your time here in Pittsburgh?' I said 'Very much, and I must say, Pittsburgh is a great city.' He said 'Thank you, I have to agree.' And then before I got off at my floor, he said 'You know, we take Mister Rogers very seriously in Pittsburgh.' I said, 'I am aware of that.' The entire town knew we were filming a movie about Mister Rogers . I think we got a proper amount of props from the people of the city—as well as some expectations."
Fred's wife was brought into the movie production for her blessing which she gave. She had two important things she wanted to come through in the movie. One was how funny Fred was. If you read his speeches, you can hear his wit and humor. She also wanted to make sure that he was not treated as a saint. Her theory was that he had been put on a pedestal above everyone else. She said people might tell her, "I can't do that but I admire him. I would love to do it." Her response to them and to us is "Well you can do it. I'm convinced that there are lots of Fred Rogerses out there." And of course, that was Fred's goal; he wanted us to all believe we could make a difference.
One of my favorite Fred Rogers stories was about his car. The "story" says Fred's Chevy Impala was parked near the TV station in Pittsburgh when a thief took it and drove off. Fred filed a police report and it got out on the news. Within two days the vehicle was returned to the exact spot with a note left on the dashboard that said, "If I'd known it was yours, I never would have taken it." There are some questions about whether this is a true story or not.  In 1980, the New York Times did in fact report the story. In reality, Fred was babysitting for his grandson when it was stolen. The thief realized whose car it was because he found some papers in the car and he did return the car and left it parked in front of Fred's home. As writers, details get embellished, so I like the inaccurate version better, but either way, the point is the same.  We should all try to be the type of people that would make thieves feel bad about stealing our cars.
During one of his interviews, Fred was asked about productive people he had been exposed to and he said "The thing I remember best about successful people I've met all through the years is their obvious delight in what they're doing . . . and it seems to have very little to do with worldy success. They just love what they're doing, and they love it in front of others." We need a few more successful people in this world, and more Fred Rogers to inspire the next generation. So put on your sweater, go talk to some kids, and show others you care.