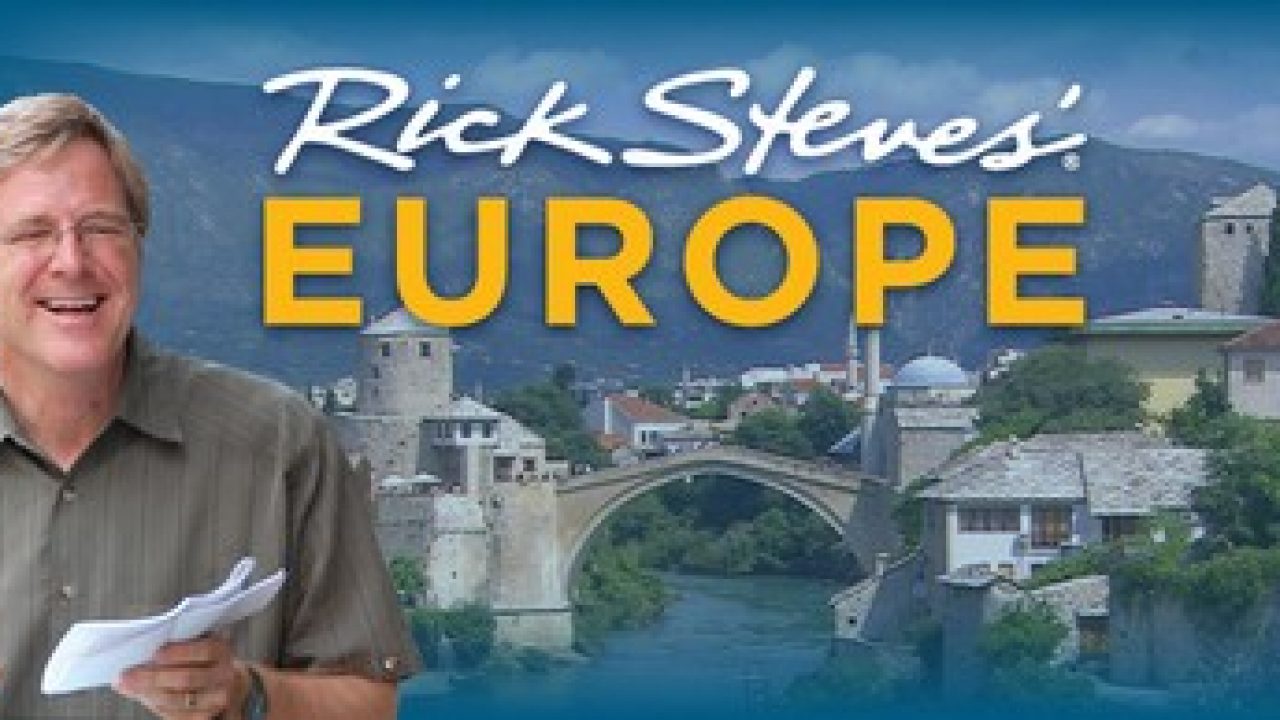 We are learning about some adult PBS shows this month that inspire us. We have learned about shows that inspire our collecting and our cooking, but one of my favorite things is travel, and today we get inspiration for getting away. Any time you are stuck at home with the travel bug (hint, think any moment from the last two years), turn on the TV and tune into Rick Steves' Europe. This travel documentary series was created by Steves and is hosted by him.
The show is produced by Oregon Public Broadcasting. It debuted in 2000 with 152 episodes being released, as well as a few specials. Steves spends about a third of his year filming TV shows and researching locations for his guide books.
Rick was born in 1955. His love of Europe began when he was 14. His parents owned a piano store, and the family traveled to Europe to check out piano factories. Steve kept a journal of their travels. He stored postcards and numbered them to remember the trip. After high school, he attended the University of Washington, majoring in European history and business administration. He wrote his first travel book in 1979. Before Rick Steves' Europe, he had another show on PBS called Travels in Europe with Rick Steves from 1991-1998.
His travel philosophy encourages people to explore destinations that are not tourist-centered spots and to learn more about European lifestyles. He also has a radio show called "Travel with Rick Steves" and has authored numerous travel guides and newspaper columns. He donates royalties from one of his books to Bread for the World, an organization to end hunger. His newest venture is an app called "Rick Steves Audio Europe" which features self-guided walking tours.
Rick designs all the tours that are featured on the series. He emphasizes trying local cuisine and encourages making discoveries on your own that you might not see on the show. Annually, he takes about 30,000 people to Europe, utilizing 100 native guides.
His PBS series is one of the most popular and longest-running travel series. With long-time producer Simon Griffith and cameraman Karel Bauer, Rick lets visitors, physically and mentally, learn about the best B&Bs in Tuscany; play backgammon in Turkey; hike on Alpine ridges in Switzerland; and eat tapas in Spain or pub-grub in Ireland.
As we have seen throughout the past year, Steves was also grounded by COVID-19. His travel strolls were limited to his own neighborhood. He realized that as things open up, his tours will still have to wait for an extended period of time. Because he likes to visit small, cozy villages and interact closely with Europeans, he knows this will require a bit more patience. As he says, "So, the whole beauty of travel for me is people. And that'll come back, but I'm gonna be patient."
Until that happens, you can find a lot of interesting information on his website. It's all free. He also has a Europe Bingo. Download and print the Bingo cards and learn about the great European cities while streaming an episode of his show.
Steves' motto is "Keep on Travelin.'" Luckily for us, watching his show will allow us to do so no matter how often we are stuck in our living rooms.