As we continue with our National State Day Celebrations, this week finds us in West Virginia. Who else can we pick but Don Knotts?
Born in 1924 in Morgantown, WV, Don Knotts was the youngest of four boys. Don had a rough youth. His parents were farmers and his mother was 40 when he was born. His father suffered from mental illness, and Don's birth led to a nervous breakdown. His father died when he was 13 and his mother made her living running a boarding house after that. At an early age, Don began performing as a ventriloquist and comedian at church and school functions.
After graduation, Knotts began college but then enlisted in the army, serving during WWII from 1943-1946. He toured the Pacific Islands entertaining the GIs as a comedian. In 1948 he graduated from West Virginia University with a major in education, a member of the honor society.
Before graduating, Knotts married Kathryn Metz. They would remain married until 1964 when they divorced. After college, the couple moved to New York to pursue a career in the entertainment industry.
Believe it or not, his first role was in the soap opera Search for Tomorrow, and he would become part of the cast from 1953-1955. In 1956, he got his big break on the Steve Allen Show, playing a nervous man. He stayed with the show until 1959. The Tonight Show relocated to Hollywood with Jack Paar as host in 1959, and Don went with him. However, during his time on the show, he had a role in the play "No Time for Sergeants" and then in the film version with Andy Griffith.
In 1960 Andy Griffith was putting together his own sitcom, The Andy Griffith Show, and he offered Knotts the role of Barney Fife, deputy. During his time as Barney, Knotts received five Emmy awards (three during his first five years).
The Museum of Broadcast Communications sums up Barney's character perfectly:
"Self-important, romantic, and nearly always wrong, Barney dreamed of the day he could use the one bullet Andy had issued to him, though he did fire his gun on a few occasions. He always fired his pistol accidentally while still in his holster or in the ceiling of the court house, at which point he would sadly hand his pistol to Andy. This is why Barney kept his one very shiny bullet in his shirt pocket. In episode #196, Andy gave Barney more bullets so that he would have a loaded gun to go after a bad guy that Barney unintentionally helped escape. While Barney was forever frustrated that Mayberry was too small for the delusional ideas that he had of himself, viewers got the sense that he couldn't have survived anywhere else. Don Knotts played the comic and pathetic sides of the character with equal aplomb."
Originally, Don was supposed to be the straight man to Andy's character, but Griffith quickly realized the reverse would make the show more successful. Andy always said he wanted to be done after five years. During that fifth year, Knotts began to search for his next job. He signed a five-film contract with Universal Studios. Then, Andy decided not to quit after season five, but since Knotts was already committed, he left the show in 1965.
From everything I've read, it seems like the cast of TAGS got along very well. Although Frances Bavier seemed to take things more personally than others, the actors seemed to enjoy working together. Betty Lynn who played Barney's girlfriend Thelma Lou described Knotts as "a very quiet man. Very sweet. Nothing like Barney Fife." Mark Evanier, a television writer, called him "the most beloved person in all of show business."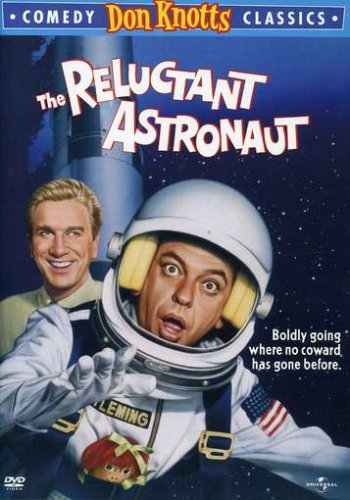 Knotts family-viewable films were very popular including It's a Mad, Mad, Mad, Mad World; The Incredible Mr. Limpet; The Ghost and Mr. Chicken; The Reluctant Astronaut; The Shakiest Gun in the West; The Love God?; and How to Frame a Figg.
One of my favorite roles of Don's was as the shoe salesman in the Doris Day-James Garner movie, Move Over Darling.
He also returned to Mayberry for several episodes. (Two of his Emmys came from these guest spots.)
Knotts also kept busy on other television shows including appearances on The Bill Cosby Show, Here's Lucy, Fantasy Island, The Love Boat, Newhart, and That Seventies Show.
Also, during these years, Knotts tried marriage again wedding Loralee Czuchna in 1974. The couple called it quits in 1983.
He received his second starring role in 1979 as Mr. Furley on Three's Company. Knotts replaced Stanley and Helen Roper (Norman Fell and Audra Lindley) who left for their own spin-off show.
He became the new landlord for the trio upstairs. He would stay with the show until it ended in 1984, racking up 115 episodes. I will admit that I did not enjoy the show, and I felt Knott's performance was over the top and too stereotyped; I felt that way about the other characters also.
Don and Andy remained close friends throughout their lives. When Andy returned to television as Matlock, Knotts also received a role on the show as Les Calhoun, Matlock's neighbor from 1988-1992.
Don suffered from macular degeneration, and eventually it caused him to become virtually blind. In 2002 Don married a third time when Frances Yarborough became his wife.
Knotts died in 2006 from pulmonary and respiratory complications from pneumonia related to lung cancer.
Off screen, Knotts seemed to be a very funny guy. His daughter Karen said, "Here's the thing about my dad. He had this funniness that was just completely, insanely natural."
He told his daughter his high school years were some of his happiest. His home town loved him too, and a statue honoring him was unveiled in 2006 in front of the Metropolitan Theatre. The statue was designed by local artist Jamie Lester, another West Virginia native.
Don Knotts had a spectacular career. As a young man, he got a job in a chicken factory and spent his days pulling feathers off dead chickens because he was told he had no future in the acting profession. It would have been hard for him to imagine at the time the legacy of performances he would leave—television shows and movies that generations of fans would watch. More than sixty years after Barney Fife put that bullet in his pocket for the first time, viewers continue to watch and love the Mayberry residents as they go about life in their small town. And the fact that the place where he first learned about life cared enough to fundraise and build a memorial to honor him says a lot. Thank you Don Knotts for showing us the importance of humor and following your dreams!